Smartphones have literally revolutionised parenting – when we're out and our kids winge, we pop on a game and all is well. Phones are a great pacifier when it comes to queuing, travelling and anything that involves a wait-time of more than, say, five minutes.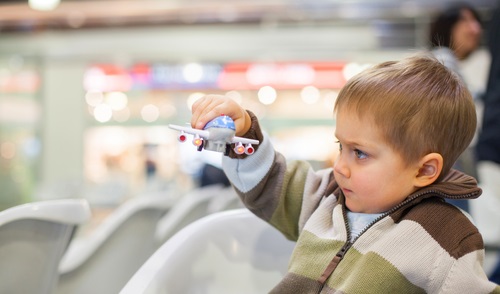 And let's be honest, a world with fewer whining children is a happier place. But sometimes, in the name of balance (and variety), it's good to go old school – to fish out the playdough and get down and dirty.
OK, so maybe playdough is not the best option for planes, trains or anywhere that's not on a table at home but, not to worry – if you're struggling to get your brain out of techno-mode, here are five obvious-but-selectively-forgotten ideas on how to keep kids busy when travelling:
Books – real, actual, physical books. Read them to your kids, let them read to you – and talk about the pictures. Find small travel-size books if you're space-confined, and choose something age appropriate that fits a theme or style that you know your child will love (perhaps they're into rhyming or colours or sea creatures etc.).
Drawing – travel-size crayons or pencils and paper or colouring books is really easy to get hold of. Other than colouring or drawing you can play random games with a bit of 'ink and paper' – guess the picture, noughts and crosses etc.
Finger Puppets – can inspire long spells of creative play.
Magna Doodle – a 'no mess, no fuss' alternative to crayons and paper.
Look out the window – if there is one! But really, some of life's best moments are spent just looking; observing the world and allowing the mind to wander. It's a fabulous thing to do and children should be doing more of it – looking, thinking – perhaps even about nothing at all.
Old-school 'keep the kids entertained' tactics are usually less convenient than techno alternatives but they are worth the effort, if you choose to make it.