Crusty play-centre high chairs, picnic tables painted in pigeon poop, and miscellaneous Petri dish-style public surfaces…dodgy places to eat are par for the course when a packed lunch is on the menu.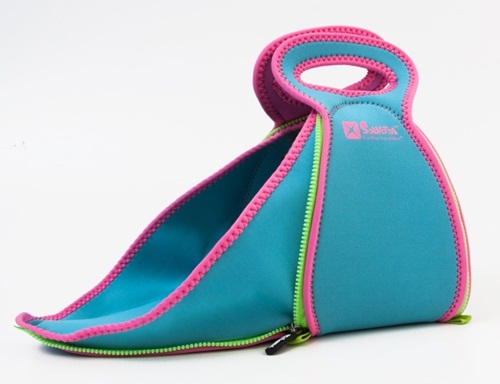 Unless you've got the FlatBox-LunchBox.
Forget clunky lunch pails and brown paper bags; this is the only lunch bag you'll need when dining al fresco.
The FlatBox-LunchBox carries food and quickly unzips to become a placemat – which means you never need to take your lunch out of your lunchbox. Simply unzip and lay it flat to convert into a placemat, creating a germ barrier on the underside and leaving the topside a clean surface for you or your little one to eat on. When finished, just zip it back up and it's ready to go.
The heat-resistant and tear-resistant bag is made from BPA and PVC free neoprene, and has dual layer insulation to keep contents cold for longer – so no more sloppy sarnies. (It's super-cute, too, and is available in a range of funky colours.)
The hygienic lunch box alternative also stores flat to save space, and can be tossed into the washing machine after your day out.
It's the perfect solution when you want to tuck in without worrying about germs gatecrashing, and is great for school, work, picnics, days out, camping, and much more.
Make those sandwiches to go and grab your own FlatBox-LunchBox from theniceststuff.com