If you expose little ones to reading early on – and often – it's rarely difficult to get them excited about a new book.
As they get older, though, the number of distractions competing for kids' attentions accumulate exponentially, and those once beloved bookshelves can get pretty dusty.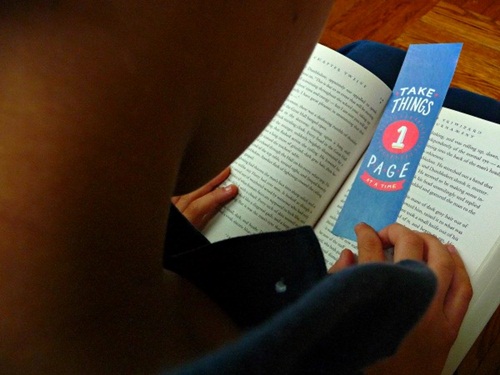 There are plenty ways to rekindle (or ignite) enthusiasm for the written word, however; there's the obvious dedicated 'library days' and making the time to read with your child — another is to create bookmarks together, or choose printable bookmark designs online.
Having their own bookmarks personalises the act of reading for young ones and provides a tangible sense of ownership, not just over the books, but over the entire experience. Kids love having their own private retreat!
A great idea via activityvillage.co.uk is for older siblings to write a message on the back of a bookmark and leave it in a favourite book for a younger brother or sister to find when they read the book later. The older child could also write a 'blurb' about the book and why they enjoyed it, and put the date they finished it too. (What a cool surprise to find a few years later!)
Coolmompicks.com has put together a list of gorgeous and inspiring FREE printable bookmarks – one for all kiddos' tastes. Print them on heavy card stock, and if you're inclined, have them laminated and even punch a hole at top to add a ribbon. (Just remember to let the reader choose the bookmark…)
Check 'em out:
Free printable illustrated bookmarks from Alpha Mom
Free printable bookmarks at Elegance and Enchantment
Free printable bookmarks for kids at Tickled Peach Studio
Free printable woodland animal bookmarks at Meteor Mermaid
Free printable kawaii girl bookmarks from The Pigtails
Free printable motivational bookmarks from Craftionary
Free printable "to be continued" bookmarks by Little White While, for This Little Street