While I totally get the appeal of food art for kids, I'm never going to have the time (or inclination) to play Picasso with a PB&J sandwich, or sculpt an Elsa effigy out of a cantaloupe. But I wholeheartedly appreciate the sentiment behind such efforts – to simply brighten up a kiddo's day when they open up that painstakingly landscaped bento box, filled with mum's sense of fun, love and thoughtfulness.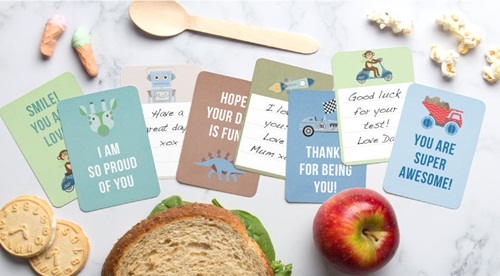 So I've found an easier, equally special way (it's about the message, not the medium!) to put a smile on little ones' chops before they tuck in to the respectably mediocre contents of their lunch boxes: 16 seriously cute, FREE printable lunch love-notes.
From Minecraft and Star Wars, to dinosaurs, butterflies, silly jokes, and fill-in-the-gap scribble space for you to pen your own words ("I love you, honey!", "Those carrot sticks won't eat themselves!"), there's something on this list to make any packed meal more interesting – all thanks to some very generous, talented designers around the web.
Just print some out, stash 'em in a kitchen drawer and stick one under their tofu burger in their lunch box just before the school run — it takes minimal effort, and will make your lil' precious feel super-spesh. She probably still won't eat those carrots, though.
Check them out:
1. 25 free printable lunchbox notes from Elegance and Enchantment
2. Free printable lunchbox notes by Julissa Mor at We Love To Illustrate
3. Free printable fill-in-the-blank lunchbox notes from Good on Design for 100 Layer Cakelet
4. Free printable Minecraft lunchbox notes at Just Peachy Designs
5. Free printable preschool lunchbox notes by Belinda Strong at We Love to Illustrate
6. Free printable lunchbox joke notes by Design by Dani
7. Free printable dinosaur lunchbox notes at Just Peachy Designs
8. Free printable Star Wars lunchbox notes from My Sweet Sanity
9. Free printable lunchbox notes of encouragement at Our Best Bites
See more at coolmompicks.com