If you're nervous of giving your baby solids but want to get them used to the flavours (and nutrients) in fresh food, then this brilliantly simple weaning gadget is a must-have.  It is also testament to the power of saliva – something babies seem to have a never-ending supply of!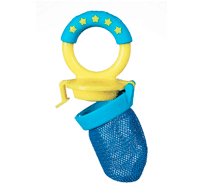 Simply pop your chosen piece of peeled apple, banana, cucumber, rusk or even cooked meat into the mesh bag and snap the BPA-free handle shut.  Then your baby can safely explore the contents by sucking, chewing and, yes, drooling on the net.  No hard-to-swallow chunks to deal with, just the tiniest extracts of food are sieved through, giving you total piece of mind.
But I warn you…once your baby has discovered some delicious new taste sensations, they'll be hankering after the whole food before long.  I know I'm not the only mum who's had a piece of toast literally grabbed out of her hands by a hungry baby!  (see my post on baby-led weaning for more on this topic!).
The Fresh Food Feeder is a great way to introduce young babies to solids, without any fear of choking.  £9.99  for a pack of 2 from Amazon.co.uk.