Originating from America, the celebrations and traditions of Halloween are now a big thing in the UK. For many children, the biggest excitement is 'trick-or-treating'. But there are lots of ways for families to enjoy Halloween without knocking on doors in the hope of sweets, especially this year when we must be more cautious. However, your little ones don't need to miss out on any of the fun of the spooky season if you're staying at home!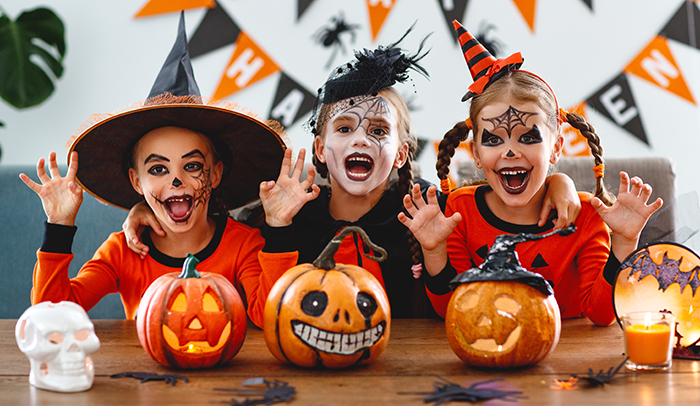 Hold a scary movie night
For the kids, perhaps not The Nightmare on Elm Street… but there are lots of family friendly films with a spooky theme, such as Hotel Transylvania, ParaNorman and Hocus Pocus. Once the little ones are in bed then you can indulge in some scarier titles if you dare!
Garden treat hunting
Rather than wandering around the neighbourhood, you can hide lots of treats in the garden or around the house for your little ones to find. You could also buy or make some Halloween trinkets too, like pretend spiders or skeletons, for them to find to avoid too much of a sugar rush.
Have a costume party
While, at the moment, it's not possible to have a house full of people, it doesn't mean you can't hold your own family Halloween party. Dress up in spooky costumes, play games like apple bobbing and serve up some Halloween-inspired food.
Make your own haunted house
With a little imagination (and a bit of Googling) you can turn your own home into a haunted house. It doesn't have to be super spooky or complicated, just have fun and let your creativity flow with decorations and sound effects appropriate to the age of your little ones.
Family games night
Not everyone wants to get involved with tradition of Halloween, so why not use the occasion to get together as a family and play some games? Choose your games beforehand so you're ready to go, pop some snacks on the table and have a fun family evening.