As much as parents might not like it, kids LOVE messy play! Toddlers, in particular, can learn so much from messy play. Squishing, squelching, pouring and pushing are all wonderful experiments to get their little minds racing with excitement.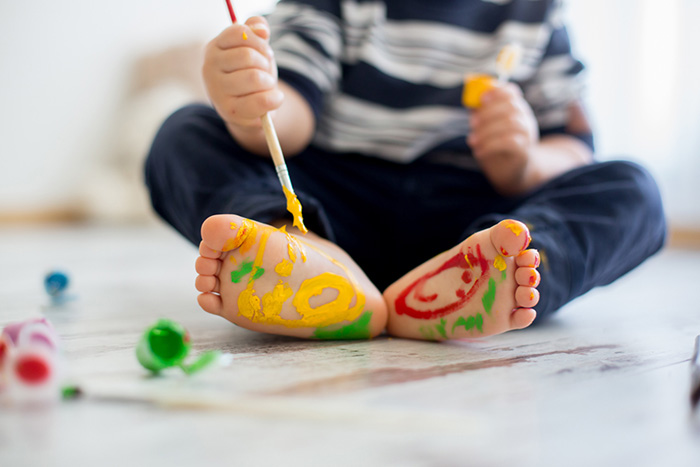 Brace yourself, ignore the carnage and indulge in some fun. You can worry about clearing it up later. Here are some quick and easy ideas for some messy play time, just remember to bring a hoover!
Jelly on a plate
Make jelly while hiding some toys inside and let your little one dig them out. Ensure the toys are suitable for your child's age range, encase they decide to snack at the same time.
Building site
Pour a bag of oats on a tray then add trucks and diggers and it can become a building site.
Fancy spaghetti?
Playing with spaghetti is so much fun and so easy! When it's cooked and cooled, add some food colouring to make it even more interesting!
Flour power
Never underestimate the play properties of plain old flour! Create a snowy scene, pile it up and knock it down, drive cars through it, bury things in it and dig them out, even make "sand" castles.
Foot painting
Take their socks off, grab a large bit of paper and make crazy paint footprints. Hands are good for this too and the creations are also a great keepsake for mums and dads.
Mud pies
Go outside, find some mud (mix with water if needed) and the rest is up to your imagination.
Vegetable carving
Vegetable carving isn't just reserved for pumpkins and Halloween. Take a large swede or marrow, scoop out the innards and make some funny faces, all under supervision of course.