Babies spend so much of their time grovelling on the floor that they may as well help you clean it, right!? A new baby mop has gone on sale and it's seriously hilarious.
The Mop Romper is a babygrow that comes with specially designed mop heads – attached. The babygrow part is 100% cotton, and the mop is made from ultra-absorbent materials and is engineered to clean and shine your floor.  The idea is that your baby cleans while he crawls.
Betterpants.com, which is selling the Mop Romper, lists five reasons (not to be taken too seriously) why you and your baby need one:
1. Teach your baby a strong work ethic early on in their life.
2. Your baby will learn not to drop and waste food.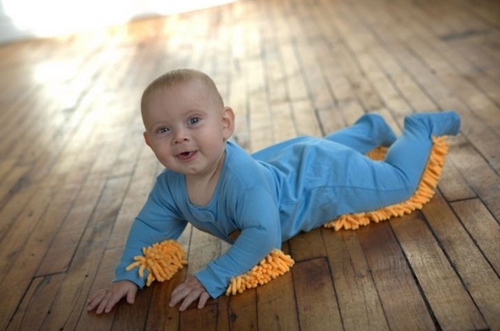 3. Baby will get a nice workout, burn off energy, and do muscle toning. And sleep better too!
4. Not having to clean your floors saves you time so you can spend it doing things you enjoy.
5. Save lots of money on house cleaning costs.
I hope that you're laughing as much as I am!?
It's a novel idea and will make for a fun baby shower gift. I'd love to get one for my 10-month-old baby although I have a feeling that she'll be totally distracted by the bright yellow mop tassles, which will be as much fun to play as to mop with.