Most tots start off their food adventure with gusto; but somewhere along the line insanity-inducing fussiness threatens to spoil all the fun. Here's what you can do to rescue mealtimes.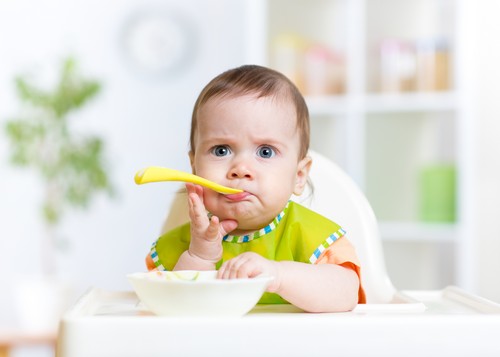 Smile.
Avoid serving a dish alongside the phrase "It's okay if you don't like it"—you're only setting the meal up for failure, priming your tot to be extra suspicious of what's on the plate. Instead, put the food on the table, smile, and tuck in to your own food. Keep it laidback, and leave the eating up to your child. If he doesn't try it, don't get upset. Have fruit as an accompaniment to the main, and you won't have to panic about starvation.
Keep it low-key.
Unless you love to, spend less time in kitchen—plan quick, uncomplicated, healthy dishes for the week, and do slow cooked meals for the weekend. You're apt to feel less wound up about picky eating if you've invested less in the actual cooking. Once you take the focus off the food and place it on the togetherness of mealtimes, you might find your little one more relaxed about new tastes.
Don't short-order cook.
Make the same thing for everyone, just ensuring to add at least one familiar ingredient or side.
Enlist.
Get your kiddies into the kitchen. Stirring, seasoning, chopping…once they're involved in the process, they feel more ownership of the final product, and even excited to try it out.
Cut the snacks.

Hungry kids are less picky. Fact. If you're planning a new dish, curb the snacking at least two hours before the dinner bell.
Don't fear flavour.

Cinnamon, basil, turmeric, cumin, garlic, butter…a meal is not best enjoyed bland—so season your recipes without fear so that your tots may fully appreciate the flavour possibilities of food.
Keep at it.
It can take up to 20 exposures to a new food before your child will take a tentative first bite. This is how they're wired. So don't fight against a gazillion years of evolutionary protection; just keep offering, and smiling.
And throw a banana or two on the table.
Via mother.ly