Spring is here, which is the perfect time to get out into the garden and spruce it up ready for some summer fun. There are lots of ways you can get children of all ages outside, whether helping with some digging or creating some exciting features.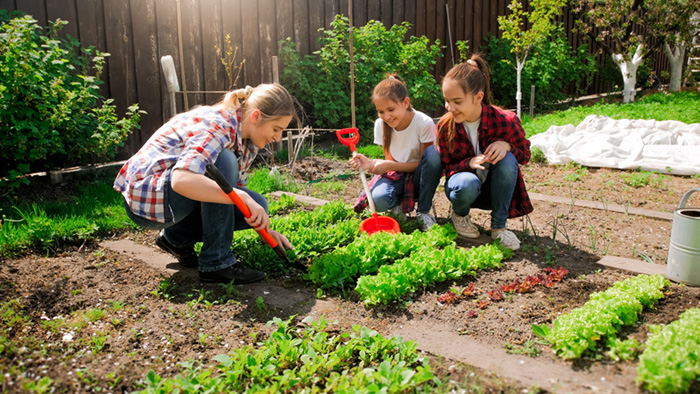 Make a bee hotel
Bee numbers in the UK are falling, so by making a bee hotel in your garden you can give them a home and help their population. A simple bee hotel can be made using plant pots, modelling clay, bamboo canes and string. You can find step-by-step instructions at https://www.rhs.org.uk/education-learning/gardening-children-schools/family-activities/Activities/activities/make-a-bee-hotel. If you don't want to encourage bees into your garden, you can make other homes for insects and bugs. There are lots of good ideas on the Royal Horticultural Society website.
Grow your own vegetables
Growing your own veg is not only fun for children, it's also a great way to encourage them to try new foods. There are lots of seeds that you can sow in April. Beetroot is easy to grow so is ideal for beginners, and can grow in any fertile, well-drained soil. Carrots are another good veg to plant on well-prepared soil that's free from stones, and they should be ready after three to four months.
Have a sunflower race
Plant sunflower seeds for each member of the family and see whose grows the tallest. You can either plant seeds in pots or directly into the ground where they're going to flower. As your sunflowers grow taller, you'll need to support them with a cane. Children will love watching them grow taller than them!