This is a great time to get out in the garden with your children – not only for some exercise but also for fun and learning. Here are some simple garden projects that you can adapt for kids of all ages.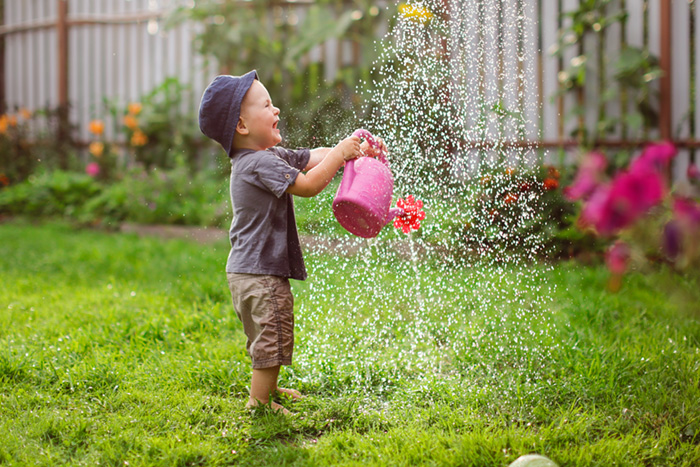 Make an enchanted garden
The base of a tree or a hollow in the ground makes a great starting point for you to create a magical garden for fairies and elves. Collect stones and twigs to make fences, pick weeds for pretend trees (while giving your garden a little tidy up at the same time), or plant some seeds and enjoy seeing them grow. Do as much decoration as your little ones want to – perhaps add bunting, ribbons or mini-furniture and animals you have from a doll's house or play set.
Lolly stick labels
If you fancy planting some herbs or seeds, why not get your children to make labels for them out of lolly sticks so you know which is which? Get some paints out and let them get creative with colours, then add the names of the things you're planting and stick them in the soil.
Make seed people
This is a really fun way for children of all ages to grow seeds. Cut the bottom off a clear plastic bottle so it's about 15cm deep, and decorate it with eyes, a nose and a mouth. Add some soil from the garden, or some potting soil if you can get hold of any, and then plant some seeds inside. It doesn't matter what seeds you plant – grass seeds are ideal as they will grow long and tall, but any others that will grow to create 'hair' are fine. You could measure how long the hair gets or even give it a trim!
Make a play zone
If the weather is nice, why not let your little ones help to make their own play space in the garden? You could use pallets, cardboard boxes, garden furniture, or anything else that can help them to section off an area of your garden. Let them pick toys and games to put in there. It'll be super exciting for them to have their very own part of the garden.