When we moved into our new house last year, one of the things we liked most about it was the wall-to-wall brick fireplace/shelving arrangement that spanned one end of the living room and housed everything from books and photos to the TV and multitude of remote controls, DVD players and games consoles.
At the time, only one of my two children was mobile and at three and a half, she was very capable of staying on her feet and old enough to know not to put toast in the DVD player, so all we needed for peace of mind was a small fire guard.
Fast forward a few short months and her brother is now doing his best to keep up, making his way slowly but surely around the furniture, always making a beeline for all the hard lines of the fireplace and all the gadgets and gizmos that live there. Almost overnight, the entire end of the room has become a danger zone.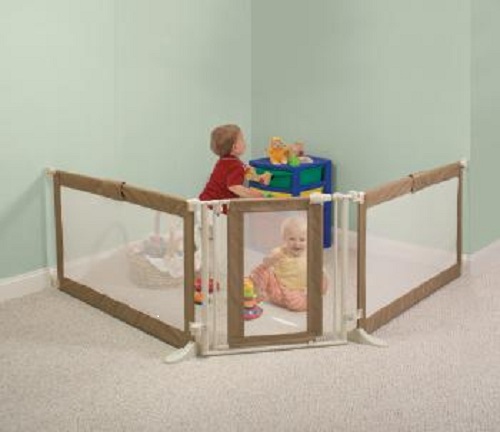 So I was very pleased to find the Super Wide Custom Fit Gate from Summer Infant.
This extra wide safety fence is 91 cm high and fits gaps between 178 cm and 365 cm, and with a handy gate in the middle, it keeps all the small people on the right side of the fence while still allowing the grown-ups to get through to stoke the fire on cold days.
Because our room is open plan and the gap to be bridged was not a straightforward one, I wasn't convinced at first that such a simple design would work for us, but the wall mountings made it easy to fit securely even into odd spaces, and the extra sturdiness of the feet in the middle means we can rest easy knowing that even older children won't be able to pull it down.
The inoffensive colour would work well in any room and I don't expect it to show the grubbiness you might expect if it were white, and if we want to take it out all together once the kids are in bed, we can just whip it off the quick-release wall hinges and fold it up for storage.
So while we're looking forward to the time when our lovely cottage fireplace can come back into its own, for now we're quite happy to live with the excellent Summer Infant fence and the peace of mind it brings.