Spooky season is here! Pumpkins, ghosts, witches, black cats, and cauldrons are everywhere. There's nothing more exciting than getting your little ones involved in Halloween crafts and activities for spooky fun.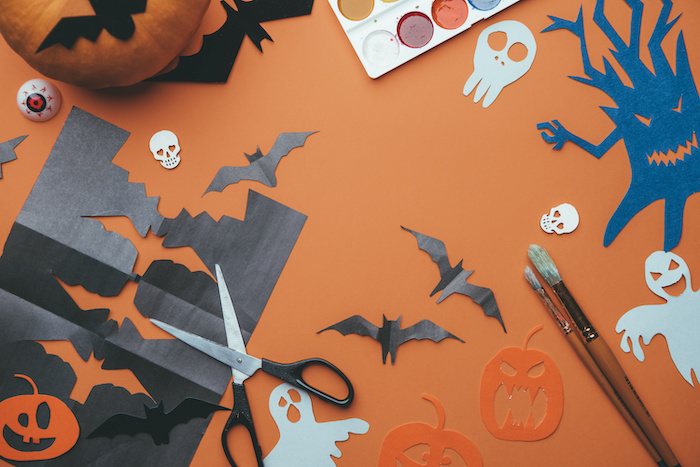 Painting rocks and stones is always great fun for children of all ages. You can make them as simple or as detailed as your little one can manage. All you need are some paints, paintbrushes, and some well-sized stones. You can add a Halloween walk to find stones and ask your little ones what they think the stones look like. Does this one look like a ghost, or does that one look like a pumpkin?
Masking tape mummies are quite easy for even little hands to make. You can use black card, or any other colour you want. Use a large gingerbread man cookie cutter to draw out your mummy shape. Cut different lengths of masking tape and let your little one go wild sticking it onto the mummy shape before you cut it out. Once you've cut it out, your child can stick on a pair of googly eyes, and draw on a mouth if they want to.
These Styrofoam cup spiders are really cute, and your little ones can have lots of fun making them. You'll need Styrofoam cups, paint, glue, pipe cleaners (in different colours), and googly eyes. Start by painting the cup. You might need to give it a few coats if you want a really solid colour. When it's dry, you can start on the legs. Cut four pipe cleaners in half. Take each leg and make it into an L shape. Make holes for the legs at the large opening of the cup, and secure them in place. Turn the cup upside down, and glue on a pair of googly eyes.
This Halloween monster banner is a great way to get the whole family involved in some spooky crafts. You'll need a large sheet of white card, a large sheet of black card, several sheets of card or paper in different colours, a glue stick, glitter, and something to draw and colour with. Start by cutting the white card to make a banner shape. Cut the black card to fit into the white banner, and glue it in place, leaving a small amount of white border.
Let every family member choose a different colour of paper, and trace their hand onto the paper. Cut out the hands. Each family member can then use pens, pencils, crayons, glitter, and googly eyes to make their own monster. Make sure that everyone leaves the fingers blank. Use chalk or white paint to write a happy Halloween message on the black banner, and glue all the hand-print monster on the banner.