As adults, if we're sticking to a diet, birthday parties are usually our momentary reprieve from the punishment of celery sticks and lemon water. And we usually ease up on the restrictions with our kids on special occasions, too (and then pay later when attempting to wrangle a human pinball into bed).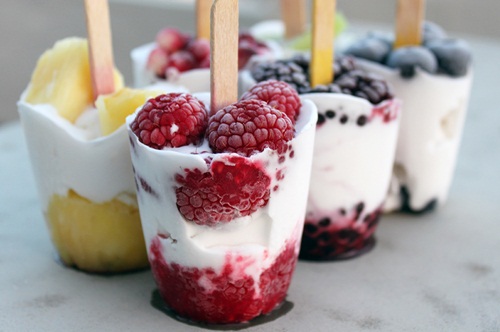 Yet aside from the obvious sugar-high induced chaos, crash, and burn, and the plainly unhealthy gorging on snacks loaded with saturated fats, the party eats mentality has another, longer-term effect; when we tell our children it's ok to cram in the junk – but only within the context of a party (or for some other celebratory reason) we're essentially attaching a special importance to the food that does us no good, and creating an excitement surrounding its partaking.
Twenty years on and buying a cheeky chocolate is addictively thrilling, and working your way through an entire cheesecake because you landed that new job is entirely acceptable.
Being fundamentalist about food choices doesn't do one any favours either, but it is, inarguably, a good idea to change our perception (and our families') on what constitutes enjoyable, exciting fare – and kids' parties are a prime place to start.
JamieOliver.com has some great tips on how to make a birthday bash buffet colourful, fun and tasty. And totally healthy. Check 'em out:
1. Keep it simple
Avoid the exotic produce section and the stuff you can barely pronounce. Kids dig what they're familiar with – so quinoa and salsify salad probably won't go down too well. Think bananas, strawberries, apples, cucumbers, tomato, carrots, sweetcorn, avocado, maybe some peppers, and other straightforward veggies and fruits.
2. "Make-it-yourself" station
Young ones love to get involved in meal prep. It gives them
responsibility, gets the creative juices going, and is a brilliant party activity to do with all their friends.
A "make-it-yourself" station is perfect for this; set up a table and cover it with pancakes and different toppings, a stack of tacos and a spread of yummy fillings, the components for homemade pizza, or a big pot of pasta with some delish sauce options.
3. Homemade lollies
Lollies are easy to make, quick, and inexpensive. Jazz them up with vibrant combos of fruits or fruit juices to create your own rainbow treats. And there's no need to spend money on expensive, trendy ice lolly moulds, either; old yoghurt pots work a charm! (But if you're so inclined, these character moulds are pretty adorable.)
4. Make food more fun with natural colours
Whether you are dyeing an icing, smoothie, or cake filling, you will be surprised how gorgeous and bright natural tints come out. Beetroot, spinach, blueberries, strawberries and mangoes are just a few of the colour-boosting choices.
5. Be smooth
Get creative with how you market your menu. A 'Shrek' juice or 'Princess Elsa' blueberry smoothie will always sound more enticing than a plain ol' "healthy" drink.
6. Choc-covered fruits
Melt chocolate in a bain-marie (use dark chocolate to keep the sugar levels down), dunk in a peeled banana or pineapple ring, then roll in chopped nuts or dried fruits, and cool on greaseproof paper.
TIP: Freeze fruit beforehand to speed up the setting time.
7. Make your own alternatives to fizzy drinks
As an alternative, try juicing up lots of fruits and veg in big batches, and whizz up your own homemade lemonade (try out this zingy recipe). If you prefer not to use sugar in your lemonades, agave syrup, honey or maple syrup hit the spot just as well.
8. Hide the good stuff
Sweet and savoury dips and spreads that incorporate healthy ingredients are a mum's best-kept secret. Classics like hummus, butter bean, avocado and tomato salsa are all tasty options. Nut butters flavoured with cacao, vanilla, caramelised banana or the classic marmalade are all also healthier options than the processed nasties.
If you have kids with allergies coming, just make sure you label things that might contain allergens like nuts, dairy, etc. – you can even make cute labels that you place next to such food items.