A healthy breakfast is important for children to refuel their bodies after sleep and get them set for the day ahead. Although one of the most important meals of the day, it's often the one that is reduced to a 'quick fix' or even skipped altogether. Here are some great recipes for healthy and tasty breakfasts that your children will love.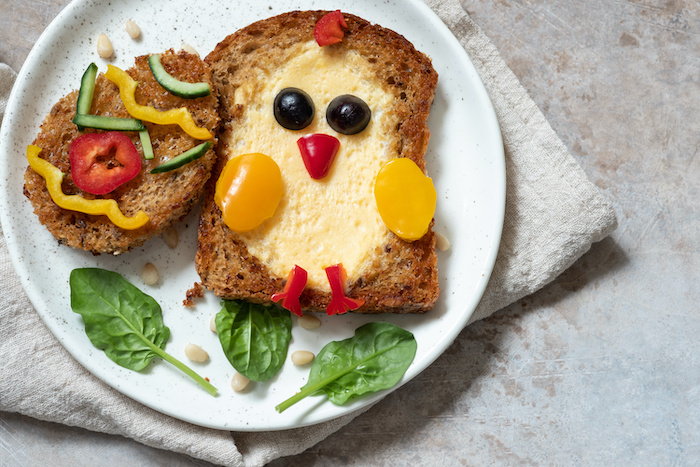 Quick and easy breakfasts at home
While the morning routine may be chaotic for many parents, it doesn't mean a healthy breakfast has to take a back seat.
Eggs in a hole:
Eggs are full of protein, easy to prepare and very versatile. Take a slice of wholegrain bread, cut a shape out of the middle with a cookie cutter and place in it a frying pan with a little olive oil. Crack an egg into the hole and cook until done.
Overnight oats:
These are easy to make the night before by mixing rolled oats and any kind of milk into a jar or glass tumbler, topping with nuts, fruit and anything else your child likes. Leave it in the fridge overnight to let it soften.
Healthy breakfasts for kids on the go
Many healthy breakfasts can be made ahead of time, which is perfect if you need to eat on the go.
No-bake granola bites:
Mix oats, almonds, pecans, cranberries, blueberries and chocolate chips in a bowl. Heat some butter and honey in a saucepan over low heat until smooth, then pour it over the oat and fruit mix and stir. Roll the mixture into balls, place on a parchment-lined baking sheet and pop in the fridge until set. In the morning you can just grab them and go!
Fruit salad or smoothie:
Mix up a tasty fruit salad using all of your child's favourite fruits. Pop it in a container and let them eat it with their fingers on the way to school or while you're out and about. You can also pop fruits in a blender, add a little yoghurt and they can have a tasty and super healthy smoothie.
Tasty and nutritious breakfasts for when you have more time
A weekend or another morning when you don't have to rush out is the perfect opportunity to enjoy a healthy breakfast together as a family.
Breakfast wraps:
You can put pretty much anything you like in a wrap to make a tasty and nutritious breakfast for all the family. Scrambled eggs, cubed ham and spinach make a tasty combination. For a meat-free and dairy-free alternative, try peppers, mushrooms and tofu.
Continental feast:
Just because you may have not been able to go abroad for a holiday this year, it doesn't mean can't still enjoy a fabulous continental breakfast. Make a sumptuous spread of pastries, cheeses, meats, fruits and yoghurts. Then relax and enjoy.