If you are a breastfeeding mum and have not come across Kiera O'Mara's awesome Mamascarf product, definitely don't stop reading…
Mamascarf is a discreet and supportive breastfeeding scarf that allows mums to breastfeed in public, in style and comfort. Kiera's story is one that's all too familiar to mums who breastfeed in public:
I came up with the idea for a breastfeeding scarf whilst I was feeding my baby in a coffee shop. I was getting disapproving stares from the people at the neighbouring table and I felt extremely uncomfortable. I had attempted to cover up with a scarf that kept slipping off or was pulled off by my wriggling baby. In addition to this, my arm was aching as I didn't have the support of the cushions I would have used at home. It was then that I started to think about designing something that would solve all of these problems providing cover, discretion, some additional support and even somewhere to hide your breastpad!
The number of times that I flashed bits of boob whilst breastfeeding in public are too numerous to count – I tried my very best not to accost people's vision with nipple and breast flesh but, as with Kiera, a wiggly baby and a disproportioned scarf are not all that conducive to comfort and discretion.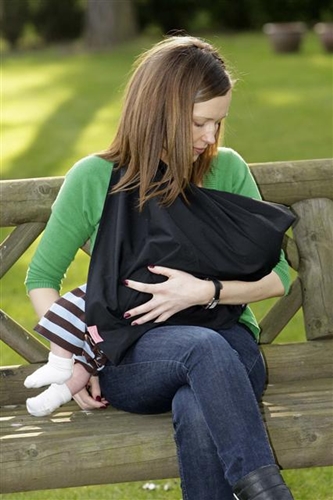 Mamascarf would certainly have made my life a whole bunch easier.
The support and cover offered by the product should encourage any new mum who may be feeling nervous about feeding in public to give it a go.
Some of Mamascarf's best features are: it's 100% cotton – a breathable material that is suitable for hot days when bundling a baby in a scarf may not be a an enticing idea; one size fits all – money saver; you can still see your baby and maintain eye contact while feeding – intimate; and it's machine washable – no hassle.
Mamascarf sells both online and to local and international retail customers, including Tesco, Boots and Jojo Maman Bebe. Mamascarf costs £17.99 – to purchase or to learn more about the product, visit Mamascarf.co.uk.
The Sudocrem website has loads more information and help for you on nappy rash.