Yoga's benefits are undisputed—especially its ability to soothe frazzled nerves and restore inner calm. And because toddlers have a tendency to get caught up in their own mini dramas, it's the perfect activity to help ease the tiny toddler tension. Here are four ways to introduce the age-old art of serenity, perfectly in time for summer.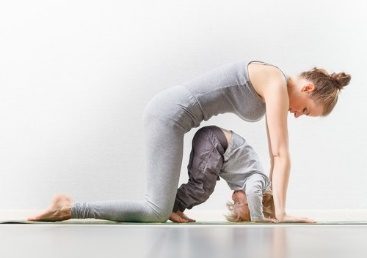 Keep It Fun
Save the seriousness for your own workouts; kids are enticed by fun, not strict rules and stern faces. While the ultimate point of yoga is to establish calm, know that the journey there with a child needs to begin lightheartedly. Think stuffed toy props, upbeat tunes, and crazy clothing.
Ditch Structure
As with the above point, rigidity won't keep your little one interested. This means you'll likely have to forgo the idea of set sequences. Instead, flow with your child's mood—calming poses to dial things down, or energising poses to pull them out of crabbiness. In the same vein, forget time constraints. If you see your little one losing focus after a few minutes, wrap it up for the following day. Alternatively, if they're enjoying themselves longer than what you anticipated, don't miss out on the opportunity to keep going!
Aim for Imperfect Poses
The aim of yoga with toddlers is not to perfect the sun salutation. It's to cultivate a lifelong enjoyment, so that when they're physically ready to strike proper poses, they have enough enthusiasm to sweat it through.
Do It Together 
This isn't just about role-modelling proper form—your lil' one is crazy about you, and wants you to be a part of everything they do. Yoga included. (Plus, it's a great way to get your stretch on.)
Via pinkoatmeal.