Disney's Frozen invasion is all set for the sequel, so there's no point in packing up the blue paraphernalia just yet. With plenty more Elsa-themed dress-up parties in your future, here's a super-easy, step-by-step guide to making a Frozen tutu to rival them all.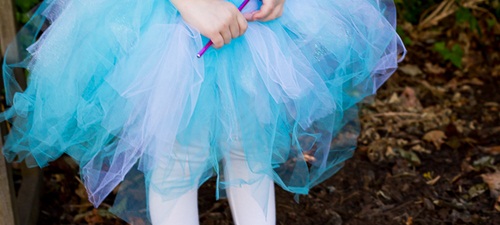 This simple, no-sew (or no more than a stitch) project that takes less than half an hour, and is easily adapted for babies, toddlers – or anyone who likes to flounce. (And even if you've had your fill of all things Frozen – there's never enough tutus in the world, right?)
To make the tutu, you'll need:
2 metres or more of tulle (SPARKLY tulle!)
Scissors
Elastic
Needle and thread
Instructions:
1. Measure the waist with elastic.
2. Cut the right length and sew two ends together.
3. Cut tulle into long strips.
4. Take elastic and tulle strip and make a knot. TIP: place your elastic around a cooking pot – that way it will be easier to make knots and keep them neat.
5. Continue making knots until you like how it looks.
6. Party time.
Load up on kitschy sparkles and toss in a snowflake tiara for the full-on Frozen effect. Once the trend for all things blue thaws, you can swop the colour for standard princess pink (or whatever the new Disney flavour of the moment is).
Tutorial (adapted) and image from munchkintime.com