Whether it's by car, train, plane or coach, a long journey can be exceptionally boring and frustrating for adults – let alone little people. Even more so if you encounter traffic or other delays. Here are some ways you can keep your children entertained and ease the pain of a long journey.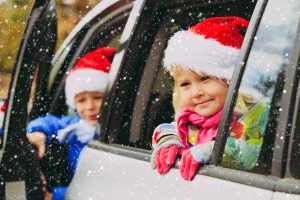 Journey bingo
Classic, simple and always a winner! Make a list, draw pictures or print off images of things for your children to spot along the way.
Presents
Wrap up a few treats for your little ones, and let them open them at intervals along the journey. Choose things that will keep them entertained, like colouring books and crayons.
I-Spy
Whether you go by letter or by colour, kids of all ages like a game of I-Spy. This is best done if you're in traffic or by limiting it to things inside the vehicle you're travelling in, otherwise whatever is spied is probably long gone by the time someone guesses it!
'I went to the shop'
Depending on the age of your children, this is not only a fun game, but a good way to help develop memory skills too. Whoever starts says: "I went to the shop and I bought…" then names an item. The next person has to repeat, then add their own item, and so on.
A good old sing song
Whether nursery rhymes, kids' classics or the latest tunes on your phone, there's nothing better to lift the mood than a good old sing-along on a long journey. (Perhaps best reserved for car journeys, as opposed to public transport!)
Audio books
Download your children's favourite books and listen to them on the way – whether over your car speakers or with headphones. This is a great way to pass the time while engaging your little ones at the same time.
Snacks
Food is a good way to alleviate boredom, and children of all ages love snacks! Go for various options, fruit, crackers, sandwiches and sweets as a treat.
Comfy clothes
This is important for mums and dads as well as little ones! There's nothing worse than being uncomfortable while travelling. Keep children's clothes comfy, and ensure their shoes are easy to take on and off if you plan on making stops along the way.
Cosy blankets and travel pillows
One of the best ways to survive a long journey with children is to encourage them to sleep! Bring along their favourite blanket and a travel pillow so they can nod off in comfort.