You're never too old to brush up on your ABCs — at least not when it comes to this hilariously irreverent version; the perfect bedtime story for after lights out…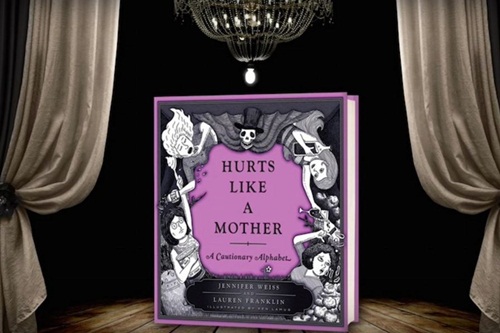 The ingenious creation of Jennifer Weiss and Lauren Franklin, Hurts Like a Mother: A Cautionary Alphabet takes you through the perils of parenthood one letter at a time, cleverly mirroring the macabre lyrical form and subversive theme of the Gashlycrumb Tinies.
Amy overdid the Pinot at the parent potluck
Brenda was concave from a postpartum niptuck
Inside Hurts Like a Mother, the fate of mums includes the dread incurred by warnings of a snow day, the toll that co-sleeping takes on parents' 'sexy time', death-by-ennui from reading too many parenting books, the asphyxiation risk posed by inflating a sea of pool toys – and the inevitable for mums of tweens/teens; dying of shame after discovering your kid's less than savoury texts.
Superbly paired with each morbid verse are the delicately grim, Gorey-esque illustrations by Ken Lamus.
Just like the various versions of Victorian child demise in the Gashlycrumb alphabet poem, the pitfalls of mumhood in Hurts like a Mother aren't far from reality – only comically rendered so that, as the blurb goes "you laugh and don't cry (or die)".
An excellent gift of commiseration for any mummy friend, check out the book HERE.
Images via coolmompicks.com