Kids these days are seemingly born tech-savvy; youths as young as 7 or 8 putting us dinosaurs to shame as their iPhone-evolved thumbs swipe, scroll and bbm at breakneck speed – while we use every finger at our disposal to type a monosyllable.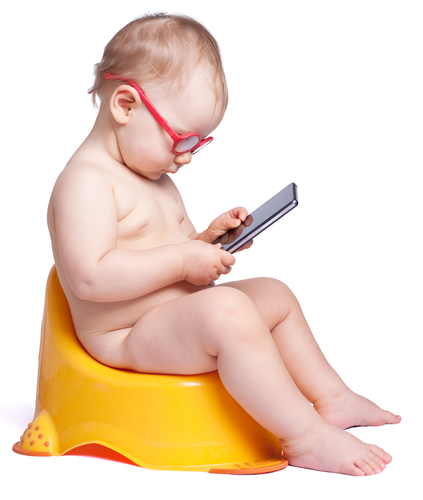 It surely won't be long before even toddlers are tittering on social media about their prehistoric parentals.
For now, though, an anonymous father-of-three has indulged the possibility of such a future with an hilarious imagining of the convos two-year-olds would have if they could text.
The genius behind If Toddlers Texted, told The Huffington Post he drew the idea for the Tumblr from his real life. "The inspiration came from watching my own kids play with my iPhone and imagining what they would text if they could," he said, adding, "I'm sure toddlers would tattle on parents to grandma, learn annoying habits from their BFF Caillou and send texts to mum asking for milk or fresh socks."
With all the predictable key players — Mummy, Daddy, Gran, and Princess Elsa, the subject matter is also just what you'd expect; laments over potty training, Santa bribery, and clandestine chats with the cat.
The satirical tone of the iMessages ain't far-fetched either; it's that knowing, mischievous glint in every little tyke's eye simply encapsulated in text-form — if it weren't so funny, it'd be pretty dang scary.
Check it out: