Breakfast is the meal most important for getting through the day, but obviously, sugar shouldn't be the primary component in the morning energy boost.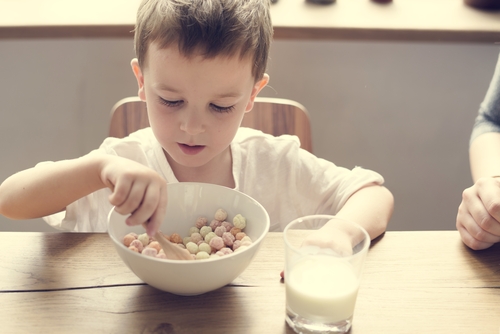 According to a new study, however, a lot of kids are starting off the morning on a serious sugar high – consuming half of the RDA of the sweet stuff before they've even entered the school gates (sorry, teachers).
The annual National Diet and Nutrition Survey has revealed that children are dosing up on around three cubes (11g) of sugar during breakfast – half the amount a child should have in a day.
Sugar-laden cereals, drinks and spreads are the prime suspects, yet research from Public Health England (PHE) discovered that eight out of 10 parents (84%), thought they were giving their children a healthy breakfast – which means many of us aren't reading the finer print on brekkie stuff marketed as "good" for our kids.
In an ideal world free from school-runs and the general stress of managing small humans, home-cooked meals would take care of the hidden sugar issue; yet that's hardly achievable for the majority of households.
"Children have far too much sugar, and a lot of it is before their first lesson of the day. It's crucial for children to have a healthy breakfast, but we know the mornings in a busy household can be fraught," says Chief nutritionist at Public Health England, Dr Alison Tedstone.
The RDA maximum is five cubes of sugar for four to six-year-olds, and a total of six cubes for seven to 10-year-olds.
Ultimately, if you don't have the time to put together a breakfast made from scratch (who does – at least on a daily basis?), then you need to be vigilant about checking what others are putting into the contents of your child's cereal bowl…
Via netmums.com