Not every child is born with the ability to sit quietly and pore over a book. If you've more than one kid, it's probable you've come up against this phenomenon: no two humans are the same. Of course, learning to sit still long enough to take in a good story will come with age…eventually; but that doesn't mean you need to throw in the towel–or toss out the books–until this momentous change happens. Start with this invaluable bit of insight: Just because they won't sit still doesn't mean they don't like reading; and check out the tips below to help tailor storytime to your audience.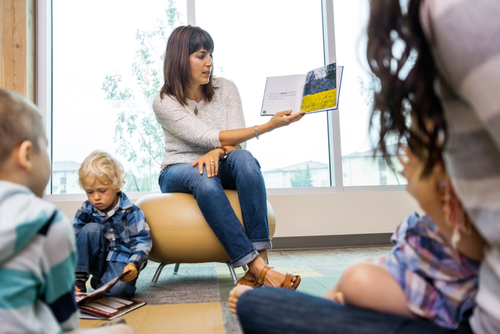 Don't make them sit still. 
Quickest way to make somebody move even more? Tell them not to move. Surrender to the fact that your child probably needs to move; and stifle the urge to turn storytime into an opportunity to enforce rules. Of course, you don't need to allow yelling or deliberate disruption–if that happens, it's better to postpone reading until the excess energy has been sufficiently expelled.
Use the art of distraction. 
Some kids have to have something in their hands to draw in their focus from everything else around them. It does seem counterintuitive, but a cuddly toy or soft ball really can help by keeping little hands occupied to free up attention.
Forget verbatim.
Nobody's checking up to see whether you're reading all the words (although your kids will undoubtedly reach the age when they do). Don't prolong a story for the sake of completion–especially if you see your listeners are losing interest. Don't make reading a chore; skip to the last few pages and ad lib to round off the story.
Ask lots of questions. 
Throughout the story, keeping bringing your child's attention back to the book–not by coercion, but by pointing to interesting pictures and asking questions. Engage your little audience and they'll be more apt to stick closer if they feel they've got an active role in the storytelling.
Let them choose the books.
This is a challenging one, because kids have a sixth sense for picking out the most inane of reading material–even just by casting a cursory glance at the cover. Suck it up, plaster on a smile, and sneak in your own favourites in between. But don't force books onto your child; and never moan about having to read about ridiculous talking tractors for the twentieth time. Take regular trips to the library to broaden your young reader's tastes, and show enthusiasm for the fact that they are choosing to read. At this age, the what is far less important.