Japanese zen gardens are centuries old, and they abide because they're both beautiful and incredibly soothing. Miniature versions are popular, too, and are used as stress relievers; even creativity boosters. Why not introduce this calming activity to your home, and make a DIY zen garden with your little ones, out of things you probably already have!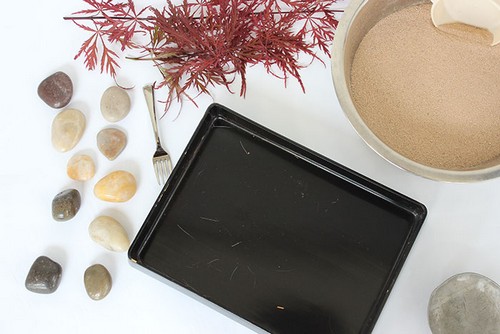 In a traditional zen garden, the swirling sand patterns represent flowing water. You then add other materials to symbolise the remaining elements: greenery and rocks. Placing real water into the garden also makes for a more serene design.
Materials:
Tray with medium depth
Small shallow dish
Rocks—grab some from your garden!
Small bowl for a water feature
Tree/shrub clippings—you could also go all out with a baby bonsai tree!
Small fork to use as a rake.
Scoop a little layer of sand into your tray—work outside if you wish to avoid mess. Using the fork, rake the surface smooth.
Now it's time to include the elements. Pour water into the shallow dish and place into the tray. Have your tots choose spots for their collected rocks and pebbles, and greenery.
Use your zen garden as a centrepiece for the dinnertable (great for keeping little hands occupied while waiting for supper!), or take it out whenever you want to bring serenity to your space—who needs screens?!
 Via sunnydayfamily.