Your baby's first year has many special events, milestones, and important moments. Your little one's first Christmas is full of special moments, but you probably want to make it a little bit extra special. Try some of our ideas to make your baby's first Christmas memorable for years to come.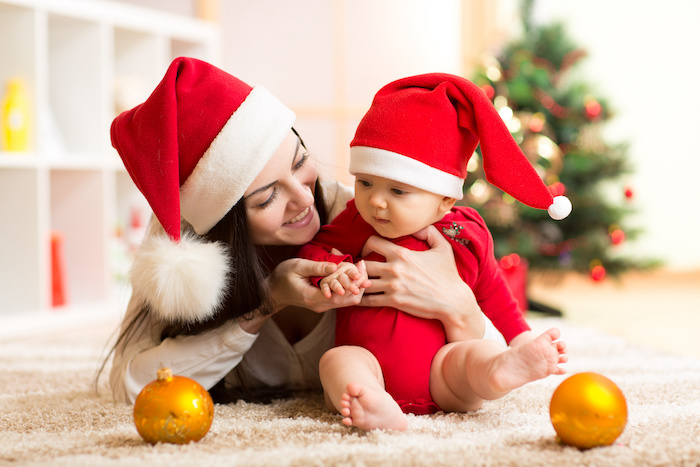 Special Keepsakes
There's a wide range of Baby's First Christmas items that you can buy to save and keep for years to come – from embroidered stockings, to adorable tree ornaments, and everything in between. It might be a nice idea for you and your little one to make your own. You can make salt dough circles and make imprints of your baby's feet and hands in the circles.
Salt Dough
Ingredients
250grams flour
125ml water
125grams table salt
Method
Mix the dry ingredients together.
Add the water and knead until a smooth ball has formed.
Roll out and form your shapes on a floured surface.
Help your little one make handprints and footprints.
Bake in a preheated oven on a low heat for around 3 hours, or until the ornament is solid.
After baking and cooling, you can paint the ornaments with poster paints. These ornaments can last for lifetimes if they're stored properly. Some people prefer to wrap them in tissue, or newspaper, and put into an airtight container. Keep the container in a cool, dry area. It may also help to cover the ornaments in a layer of clear varnish to help preserve the salt dough as well.
Mistletoes can be made using the salt dough, or you can use paper, card, or pretty much any other medium you want to use. This design makes a cute and adorable keepsake that you can bring out every year.
Baby's First Christmas Gifts
It's going to be hard not to go overboard during baby's first Christmas, but realistically, your little one will have very little idea of what's going on. This means that you can give presents that are useful, encourage physical development, something to treasure, or just some things that are fun.
Useful presents could be something like a hamper of pyjamas or clothes in the next size up. Playmats, or play centres could be a great gift to help encourage your little one's physical development. Gifts that can be treasured for years to come are another great idea for baby's first Christmas gifts. Things like teddy bears embroidered with their name and the year, or a special tree ornament that they can take to their own homes when they grow up are very special treasures to have.
Special Moments
There's lots of different ways that you can create special moments, and special memories with your little one. Some parents like to have a family set of matching pyjamas, which makes a really cute photo opportunity. Others like to choose an area of their home, maybe beside the Christmas tree, or on an armchair, and take a cute picture. You can return every year and set up a similar picture. These photos will show your little one's year on year growth and change.
Making it Special for Everyone
Christmas is a special time for friends and family, and your extended family might be waiting to descend on your baby for their first Christmas. It's exciting, but it's best for your little one if you can stick to your routines as much as possible. It won't be any fun for anyone if your baby is grumpy from being overtired or crying because they're missing their dinnertime. If you need to, be firm about your routines, and let people know that you need time as your own little family as well.
This is a great opportunity for family bonding time, so make sure that you don't overbook yourselves. Make time to enjoy your little one by yourself. You could set aside time to read a Christmas book together, like The Night Before Christmas, or The Polar Express. Older babies might enjoy books like The Jolly Christmas Postman.