I did sympathise with the newly-pregnant Christina Applegate as she agonised over what to wear for the LA premiere of her film Cats & Dogs.  "All is well…except that I don't know how to dress this belly yet!", she moaned to her Twitter fans.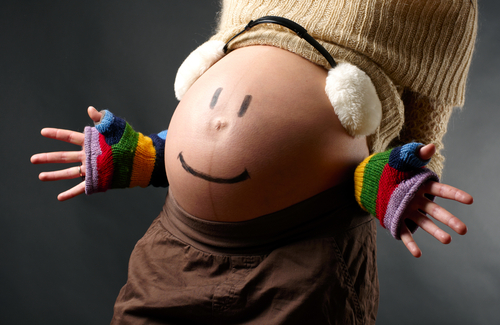 I so remember the early conundrum of trying to dress my newly padded-out pregnant figure.  No longer able to squeeze into normal jeans but not quite ready for full-on maternity-wear.  When I finally plucked up the nerve to walk into Formes maternity store, 14 weeks into my pregnancy, the relief of discovering elastic-waisted jeans was indescribable.
The first few months are absolutely the worst on the fashion front because most of us prefer not to announce our pregnant state until the reassurance of the 13-week scan.  Which means you either have to allow your friends to think you're putting on weight or dress in loose, shapeless clothes to camouflage any giveaway growth.  And although there are some women who genuinely don't show until much further down the line, I for one was literally bursting at the seams almost the minute I took the first pregnancy test.
If only maxi-dresses had been all the rage when I was 10 weeks pregnant and too bulgy for my regular wardrobe.  A stunning maxi that shows off a bit of cleavage but generously disguises a curvaceous tummy, such as this crinkle-effect halterneck from AxParis, £35, would have been just the ticket.
Something else I could have done with are these super-stylish trousers www.babeswithbabies.co.uk.  A great pair of comfortable wide-leg trousers with a clever wrap-around sash tie that ensures a perfect fit, whatever size your waist/bump.  In the early stages of pregnancy, longer than normal tops worn over the sash disguise your tummy perfectly.  As your bump grows, show it off with pride by tying the sash in a sweet bow beneath it.
Another genius garment that sadly totally passed me by during my pregnancies is the Belly Band (from Cecily Plum).  A ruched cotton-lycra band, available in black or white, this fabulous invention hides the gap between trousers and tops, meaning you can wear your regular wardrobe for longer.  In fact, I think this is such a clever item that I'd go so far as to say it should be a maternity-wear staple.
If you're looking for investment pieces that are going to work that bit harder for you, look no further than Cecily Plum's 6-way Maternity Dress.  This clever black number can be worn as a halterneck or crossover dress, strapless dress or 1-shouldered, cap sleeved or even a skirt.  At £79, that's seriously good value from one item of maternity-wear.  As the description boasts, "Wear the same dress to all your maternity events and look different each time".  Quite.
But if one dress styled six ways is not enough for you, may I suggest just one more?  The Avalicious in Charcoal (£95) by Babes with Babies is a simple but rather sexy shift dress (and yes, I don't see why you can't be pregnant AND sexy).  Stylish touches like the asymmetric hemline, ruching round the bump and slash-neck give it a reassuringly contemporary vibe, while practical factors like its soft, washable, stretch-jersey fabric make it one of those pieces you'll wish you could still wear, long after you've had your baby (and maybe you could, with a statement belt).
Finally, no wardrobe is complete without flattering and supportive lingerie and pregnancy, like no other time, calls for perfectly fitting underwear.  My best piece of advice to you (could I even make this an order?) is: Get Fitted Professionally.  It's free from most department stores (John Lewis, M&S etc) and these ladies know what they're doing.  Let one of these no-nonsense women advise you on the most comfortable fit, while allowing enough room for growth, and you'll thank me forever. But you'll need to get checked each trimester as, take it from me, raging hormones mean you can go from enhanced-cleavage to Dolly Parton in a matter of weeks.   For the same reason, there's probably not much point spending a fortune on vintage silk lingerie, as you could wearing it for less than a month before you've outgrown it.  Elle MacPherson makes pretty maternity bras, as does Freya, or look on www.Figleaves.com.
I'd like to say that while your wardrobe undergoes some serious changes during pregnancy, you can at least still wear the same glamorous shoes that you always did.  I mean, it's not like your feet ever look pregnant, right??  But I have to admit, I ditched my precarious kitten heels fairly early on, in favour of the infinitely more comfortable Birkies.  But that's entirely up to you.  If you can do heels while pregnant, I salute you.  Personally I embraced the comfort of flats and relied on my newly heaving bosom to add a dash of pizzaz to my maternity-wear.  Your call.