It seems there is a celebratory day for just about everything, and the month of June is no exception. On June 29th it's International Mud Day… and while mums and dads might not be so keen to celebrate, plenty of kids will! Here are some ways your little ones can have hours of muddy fun.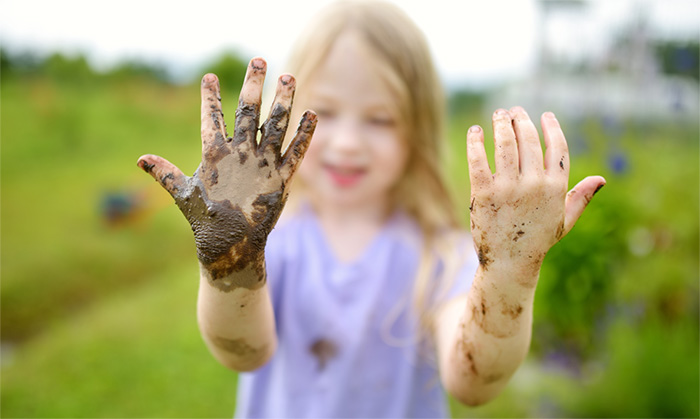 Mud painting
Let your children get mucky as they explore and experiment art with mud. It's quite effective for painting and making patterns – you can use stamps or other items you have around the house, like a potato masher or a rolling pin. Let them investigate the different patterns they can make with mud by rolling, splatting and stamping the things on white paper to get different effects.
Muddy footprints
Pop some wellies on (or bare feet if you dare) and stomp muddy footprints around the garden path, or onto paper. You can use different plastic animals or other toys to see different sizes of footprints. You could also use cars and trucks and see the muddy tyre tracks they leave behind as they whizz around the garden.
Mud sculpting
With the right amount of water, mud can be moulded and formed into any creation you like. Sculpt mud into anything from a cake or an animal, to a football or a long wiggly worm. Add accessories by using other things you can find in the garden, like twigs for arms and stones for eyes.
Magic mud
All you need for this is mud, water, baking soda, vinegar and something to add colour – powdered paint, food colouring or crushed chalk works well. Mix roughly equal parts of mud and baking soda in a large container (but there's no need to measure… more baking soda just means more fizz!). Slowly add water to get the desired consistency, then add the vinegar and watch the magic happen!