Childhood concussions are steadily increasing—and monkey bars, along with other nostalgic playground apparatus etched in our memories of laissez faire youth—are reportedly to blame.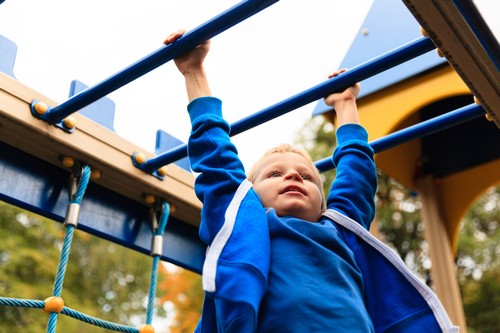 According to recent research published in the medical journal Paediatrics, traumatic brain injuries have "more than doubled" in the past decade—in 2005, 23 out of 100,000 kids suffered such injuries, compared with 48 out of 100,000 only eight years later.
Study authors posit one major reason behind this rise: parents' heightened awareness of concussion-related brain damage and the importance of seeking medical attention in the event of head trauma.
But what about the culprits themselves? While most injuries sustained from playground equipment like monkeys bars are mild, the upward trend in more serious cases means your local park could one day look different.
Swings are apparently next on the hit list with regards to unsafe play—it's the demise of the playground as we know it; but still, brain injuries are no small thing.
In any case, it'll still be a while yet before outdoor play becomes completely unfamiliar to our own recollection of it…So what do you do in the meantime to protect your child from a dangerous fall on the equipment? The study authors suggest ensuring the space surrounding the play apparatus is soft—think wood chips or sand, and obviously, keeping an eye on your child for any risky behaviour. Another important recommendation is to read the signs: playground equipment is suitable for certain age groups for good reason; if you fail to follow the rules, you're more likely to spend an afternoon at A&E—at best.
Via Dailymail.