Our first Mummy Blogger Of The Month title is awarded to Lena Doherty who is the founder of A Mum on a Mission.co.uk.
Lena writes about what makes her world go around and although her family of six is dysfunctional at times, they promise to always make you smile. Lena is always on a very busy mission to share her experiences with anyone who is willing to listen.
Read our interview to find out more about one of the coolest mummy bloggers out there:
What inspired you to start a mummy blog?
I love writing and the interaction from other mums.  When I first started I was so afraid of letting anyone read it.  When I finally plucked up the courage and published it, the kind comments from everyone encouraged me to continue.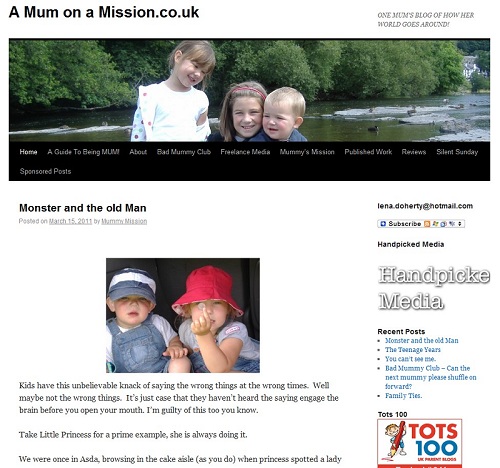 How do you manage to keep you blog up to date whilst raising children and managing a family?
I normally try to think of different subjects to discuss on the blog and schedule them for the whole week.  I say normally things don't always go to plan and I find myself busily typing away late at night to ensure there is something there for everyday or every other day.
What is your favourite day out destination (and why)?
We love our trips to the Zoo, not only because daddy works there but the day is packed full of fun.
What is your best baby memory?
The first time l saw my beautiful babies, just after they were born (ok I know that makes four memories but hey who's counting)
What is your worst moment as a mum?
When I lost my little Monster at school, he was standing right next to me the next thing I knew he was gone.  My heart sunk, tears filled my eyes and then the next minute a lady appeared with little monster.  I hugged him so hard and he never left my side AGAIN!
What is the funniest comment made by one of your children?
When my daughter announced to the busiest aisle in Asda, she wanted a Willy. And then asked did the man in the queue have one too.  I wanted the ground to open up and swallow me whole.
If a film was made about your life; which actress would you choose to play you (and why)?
This was the hardest question ever and it had the whole family arguing. My Sister came up with Jennifer Love Hewitt, because we are so alike personality wise and my eldest daughter well her answer was the little old woman who live in a shoe.  So we will go for the glamorous option of the gorgeous Jennifer Love Hewitt.
What is your top tip for travelling with a family?
Be prepared for any eventuality, as a family of Campers we are always prepared for any situation.
What is the first thing you think about when you wake up in the morning?
My husband and children, I am blessed to have them in my life.
Is there such a thing as too much chocolate?
NEVER! Chocolate is my bestest friend and it's the only thing that gets me through the day.