Our 'Mummy Blogger Post of the Week' goes to Elsie Button, the author of Flower Fairies and Fairy Cakes.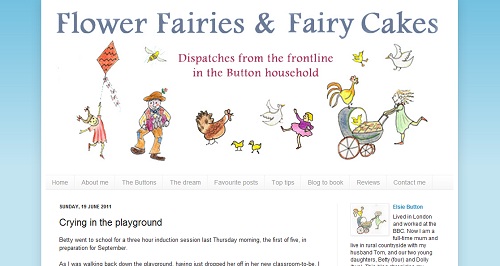 Elsie's blog chronicles the personal experiences of what the lovely mum of two calls 'the steepest learning curve of her life' –motherhood.   She writes about the joys, the challenges, the angst, the surreal and the sublime.
Elsie's story "Crying in the playground" is sure to tug at the heartstrings of mums who have to send their children to school (in other words, ALL OF US):
Crying in the playground
Betty went to school for a three hour induction session last Thursday morning, the first of five, in preparation for September.
As I was walking back down the playground, having just dropped her off in her new classroom-to-be, I saw the Head Teacher.  'Is Betty OK about it all?' she asked me.  'Yes, she is absolutely fine  – really excited' I said.
'Is the school uniform skirt, blue or grey?' I asked her, then burst into tears.
Still whimpering, a barrage of questions then came out of my mouth:  'Will Betty have to wear black shoes?'  'Will she need to bring her own pencils?'  'What time does school start in the mornings?'  'Do the reception class have their playtimes on the big playground with the big kids?'  'Do they have homework at this age?'  'Does she really have to come to school?' 'Do parents often cry like this?'
The Head Teacher was warm, empathetic and reassuring in her response.
When I went back to pick Betty up at midday (after a fractious few hours of Dolly having a meltdown, and insisting that she too wanted to go to school), I asked Betty how she had got on.
'I played in the big playground, and I made a new friend, and I really like my teacher, but I really don't want to wear grey tights Mummy – please can I wear my gold sparkly ones?' she said.
With a huge lump in my throat we drove home. We spent the rest of our Thursday making purple glittery play dough together, and then going to the playground, and having an ice-cream.