Our 'Mummy Blogger Post of the Week' goes to JanMary, the author of JanMary… welcome to my world.
Although JanMary is past the 'babies and nappy rash' stage of motherhood, as a mum of three and business owner, JanMary's experience in all things 'time and mummy' is invaluable. JanMary also do a fab line of handcrafted bespoke jewellery.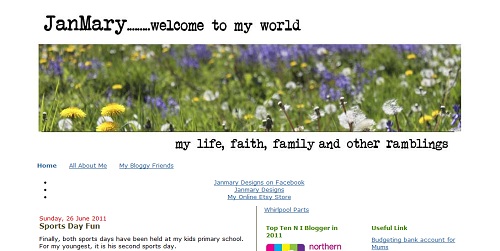 Read "Father's Day 2011" to find out how one mum celebrated the two special fathers in her life.
Father's Day 2011
In honour of Father's Day, I want to share a little bit about two special fathers in my life.
Firstly my Dad… a man of faith, compassion, loyalty and love. He is generous to a fault, caring and the best gardener I know. He gives generously of his time and talents in helping others. He frequently comes to rescue our garden, and supplies us with a steady stream of plants. He can still do head over heels in the garden with the kids, despite being well into his seventies.
The other important father in my life is my husband, dad to our 3 great kids. He shares many of the attributes I admire in my dad – loyal, caring, man of faith and principles. He is patient and tolerant of my clutter, and makes a great cup of tea! They do say you tend to marry a man who is similar to your father, and I would definitely say that is true in my case.
To celebrate Father's Day our eldest daughter made a slide show for my husband (I will try to add it to this post later), he got some Hollister Aftershave (but he was told as he was given it "don't think this is going to make you cool!"), and a mug of hot coffee in bed.
The Father's Day card was very humorous "Dad – you're grumpy but great"…..and inside it said "Happy Birthday " – ooops – we changed it to "Happy Father's Day"!
We are heading out to lunch later in Ballycastle, and are meeting up with my Mum and Dad later in the afternoon.
My heart goes out to those whose fathers are no longer here, I can't imagine how sad a day like this could be.