No matter how much easier it may be to stay at home all day, every day, with your newborn, sometimes you just have to get out—for appointments, shopping trips, or purely for your sanity. When this happens, your baby will inevitably fall asleep in transit; here's the safety rules to follow for car seat slumber.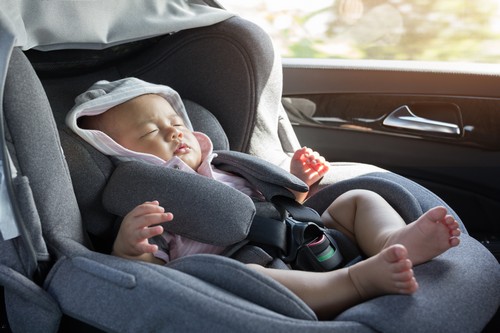 It's recommended that babies always be put to sleep on their backs, on a flat, firm surface. Of course, car seats don't promote anything like this kind of sleeping environment—but they're imperative for safe travel.
The danger lies in the fact that young infants can suffocate when they slide into slumped positions in the seats, restricting their airways. It's for this reason that car seats not be used as a sleeping space. Sometimes, though, it happens. If it does, experts advise you keep your trip as short as possible: two hours max. Keep an eye on the car's temperature, too. It shouldn't be toasty, and baby should not have too-thick layers on.
You can also opt for lie-flat car seats, for optimal sleep positioning. Whatever model you choose, ensure that you have a mirror fitted to your back seat so that you can see your baby throughout the journey.
Finally, if your baby conks out in the car seat, transfer her to her cot or crib when you get back home, no matter how tempting it may be to have your hands free for a brief chunk of respite. It's just not worth it.
Via bounty.com.