This month, the Sudocrem Fabulous Freebie Friday slot machine (bit.ly/SudocremFridayFreebies) is giving away 5 of these innovative little products!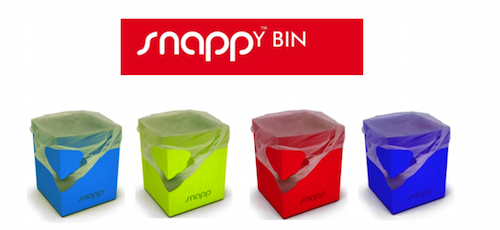 Developed by husband and wife team, the newly launched Snappy Bin is a revolutionary aid to nappy changing that conveniently holds nappy disposal sacks open, ready to receive your waste.
Nappy changing can be tricky whether from the comfort of your own home or out and about. A wriggly baby and a dirty nappy can spell trouble even for the most proficient parents amongst us and an extra pair of hands is often required. Fiddling one handed with unopened nappy sacks will now be a thing of the past. Simply pre-load the Snappy Bin and you'll have a bag ready open to receive soiled wipes and nappies – leaving both hands free for baby and mishaps with a dirty nappy safely avoided.
Snappy Bin has been uniquely designed so that it can be used anywhere around the house, maybe placed neatly next to your changing station or hung using the bracket provided. Alternatively, fold it flat, pre-loaded with nappy sacks, and it becomes a portable bin for changes on the go.
Once folded, pop the lightweight bin in your changing bag and you're ready for whatever scenario presents itself – whether it's a nappy change in a restroom, a park or even the car. Snappy Bin's founder, Amanda Kingsley, had her lightbulb moment on the floor of a service station. She reveals; "I was struggling to change my son's nappy on the floor of a cramped service station toilet on the M6 and it was then that I wished I had a nappy sack ready opened and easy to hand. Three more children later, I'm pleased to be able to finally bring my idea from concept to reality and can't wait to share it with other mums and dads".
Even before its launch, Snappy Bin was receiving accolades and won 'best new product' in the Rattles to Riches competition at the 2013 Baby Show. Voted for by a prestigious judging panel and consumers, it was hailed as a product to watch out for.
Whilst originally developed as an aid to nappy changing, it doesn't stop there; the versatile portable bin can also be used as a car bin, on picnics, in clinics, nurseries, schools, offices, salons, in the bathroom or on the couch – wherever you decide!
Snappy Bin is available from www.snappybin.com in four contemporary colours – red, blue, green and purple. RRP £7.99. Other stockists include Amazon.co.uk and Jo Jo Maman Bébé from July 2015.