Just in time for the summer hols, adorable, sneezy panda Chu is taking a trip to the beach! And, as any fan of the hapless-but-happy bear will know, wherever he goes, chaos, comedy and fantastic FUN is sure to follow…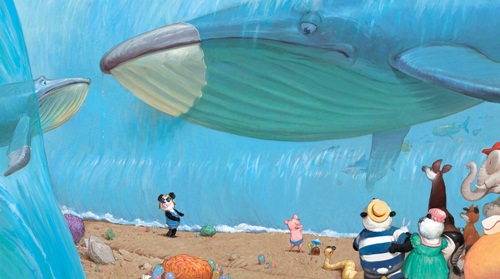 Fantasy-fiction superstar Neil Gaiman has teamed up again with the equally fantastically-minded illustrator Adam Rex for the third in the series of Chu's Day books, Chu's Day at the Beach.
It starts off as any ordinary day at the beach would (with the inclusion of swim-suited pandas, octopus ice-cream vendors and surfing gophers, of course); but nobody tells Chu that the sun can make your nose tickle…and soon nothing will stop the twitch from escalating into a full-blown, pandamonium-style sneeze — with the unsuspecting sea creatures in for a crazy ride!
Unlike Gaiman's usual profferings of gloom-tinted netherworlds inhabited by goth kids, the Chu's Day stories are light, carefree, and plenty fun – but just as engaging and magical as any of the author's titles.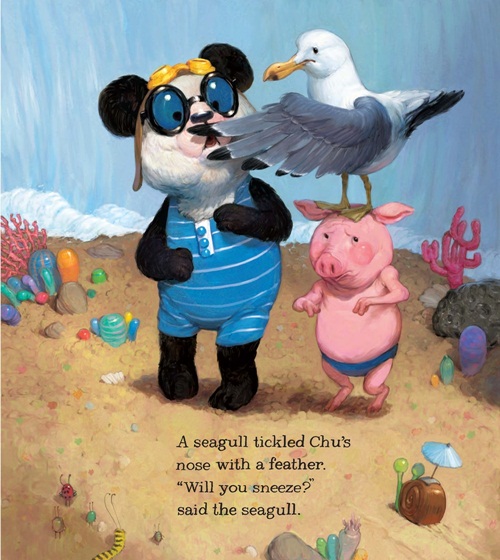 And Rex's full-colour, brilliantly detailed illustrations are so absorbing, that some may say the artwork alone steals the show.
Whether drawn to the simple but special story, the vivid scenes or the unfailingly charming main character, Chu's Day is sure to keep your young readers entertained this beachy season.
Collect all the Chu books over at Amazon.co.uk (Chu's Day at the Beach (Chu 3))