As any parent knows, having children can completely transform your notion of what can be termed 'exciting'. A night on the town these days might just seem like the prequel to the inevitable hangover, but the prospect of a new pushchair can almost compete with Christmas!
So I'm not ashamed to admit that I couldn't wait to try new baby product Johnson's Baby 2in1 Bubble Bath & Wash.
With a pre-schooler who isn't satisfied with the mediocre smattering of bubbles offered by your average gentle baby wash, and a 1-year-old who isn't quite ready to share his sister's sparkly pink bath fizz, the idea of something that will keep them both from bursting into tears is really quite exciting.
There's no shortage of choice when it comes to specially formulated products that we can bathe our babies in without fear of it being too harsh for their skin or causing their eyes to sting.
The downside is that the milder the product, the less impressive the bubbles!
So I had high hopes for Johnson's new product, not only that it would deliver high bubblability with baby-kind gentleness, but ultimately that it could meet the very different bathtime needs of both of my children.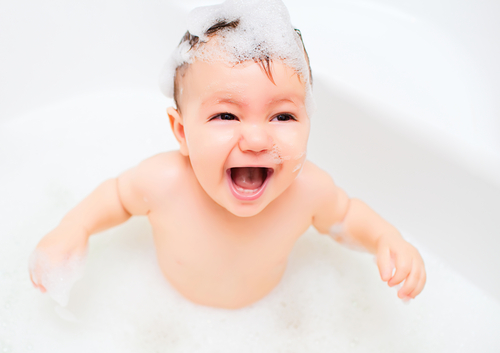 Happily, I can report that it does.
Johnson's Baby 2in1 Bubble Bath & Wash gave us a multitude of long-lasting bubbles that satisfied the need to make spiky hairdos, while even the occasional underwater dunk and inevitable splashing in eyes didn't cause any tears.
I've no doubt that the nightly battles over the favoured plastic boat will continue for a while yet, but at least for now we will all be able to enjoy sharing the most important part of bathtime – the bubbles!