Another fashion label for kids has launched across the UK – the question is: why is this one special? What makes it different from any other fashion label and why should I (a mum or two girls) spend money on it?
Right? – Are you all with me?
Okay, so The Fableists fashion label is a utilitarian-cool sustainable clothing label for kids aged 4 to 10, and describes its collection as "a mix of timeless, unisex and ultra-stylish clothes, built to last with solid ethical roots all made for a new generation of clued up consumers who want to buy differently."
Tapping into a parent's desire for unique clothing that ethically sourced and made; the label represents a move away from mass-produced fashion, manufactured under sinister conditions and laden with chemicals. The idea is to break the cycle of clothes made for kids by kids.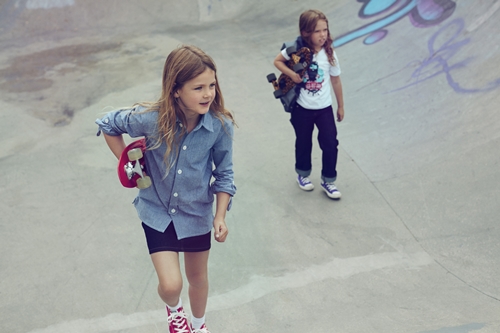 Designers Anthony Peters, Crispin Finn, Gregori Saavedra and Sami Viljanto have contributed to the T-shirt designs featured in the launch-collection, which includes shirts, tops, jeans, trousers, dresses, skirts and jackets.
The style is sort of understated yet its cool factor is enveloped in its simplicity. Shades of blue and red are juxtaposed with the stark, clean finish of white, which looks great with the jean-effect that dominates the collection.
And a plus factor: the clothes are designed to be worn all year round by both boys and girls. They are made to be passed on to someone else when they're outgrown and even come with their own passport so you can track where they've been. So although clothes are pricey (as with anything well-made) – it's money well spent.
You could spend £16 on three T-shirts (replacement after replacement) or the same amount on one good quality short that will last a whole season (or more).
If The Fableists sounds like your kinda vibe – or a style that might appeal to your kids – visit Thefableists.com.