If there's a puddle in the nearby vicinity, my daughter smells it on the breeze, follows the scent and immerses herself in the pleasure of splashing – wellies or not.
The number of times we have been out; it's rained, producing puddles galore, and I either have to be a killjoy or trek home with a sopping wet child are too  many to count.
I love that my daughter loves to splash (part of being a kid is getting messy)  but I don't love it when she slops around in sopping wet shoes, socks and tights. That's why I am most excited about JoJo Maman Bébé's Pack-Away Rainwear for children.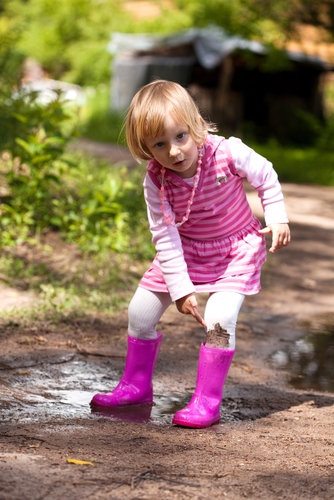 The rainwear for children range includes Pack-Away waterproof Dungarees (too cute!), Jackets and Trousers – all of which are 100% waterproof with tapes seams, 100% breathable yet windproof, made from soft and flexible fabric, and (best of all) pack away into a small integral bag.
The Dungarees and Trousers have elasticated ankles, and the Dungarees have adjustable elasticated shoulder straps and buckle fastening as well as stirrups to prevent legs riding up.
The rainwear for children comes in a range of funky colours and patterns – perfect for the fun spirit of a spring/summer splash!
Visit Jojomamanbebe.com to check out the range.