The cold evenings are drawing in, and there's no better way to embrace the change in seasons than making some good, hearty meals for the family. Here are some easy one-pot recipes to feed your family this winter.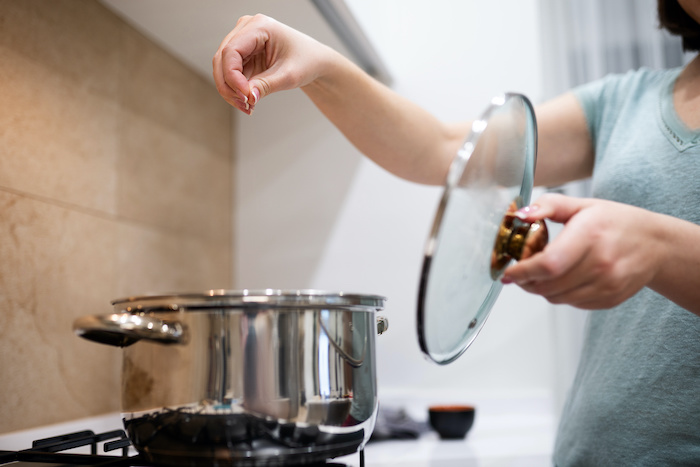 Spaghetti and meatballs
This family favourite is super easy if you have a slow cooker – the low heat and slow cooking allows the flavours of the herbs and sun-dried tomatoes to come together in a deliciously rich sauce.
Ingredients
Oil
Meatballs
Large, finely chopped onion
Crushed garlic
Sun-dried tomatoes
Mixed herbs
2 tins of chopped tomatoes
Spaghetti
Parmesan and basil to garnish
Method
Heat oil in a frying pan and fry the meatballs until they start to colour. Add the onions for a few minutes until soft and then stir in the garlic. Add tomatoes and herbs and bring to the boil. Pop in the slow cooker on a low setting for four hours. After four hours, turn up to high, add spaghetti and cook until the pasta is the texture you like. Add parmesan and basil to garnish and enjoy!
Quick minestrone soup
This hearty soup is ready in next to no time and is perfect for a quick and easy lunch or a warming supper.
Ingredients
1L hot vegetable stock
400g tinned chopped tomatoes
100g dried spaghetti broken into short lengths
350g frozen mixed vegetables
Method
Bring the stock and tomatoes to the boil, add the spaghetti, and cook until almost ready, then add the veg and bring back to the boil. Simmer for a couple of minutes until everything is cooked and serve with warm crusty bread for a filling and delicious meal.
Butter bean and chorizo stew
This hearty stew will fill your family up and only takes four ingredients and 20 minutes to cook.
Ingredients
200g cooking chorizo
2 x 400g tinned chopped tomatoes
2 x 400g drained butter beans
1 jar pesto
Method
Slice chorizo and tip into large saucepan over medium heat. Fry gently for a few minutes until starting to turn dark. Add tomatoes and butter beans and bring to the boil. Simmer for 10 minutes then swirl through the pesto, season to taste and serve.