If you or your child have lunchbox inertia – and let's face it, most parents run out of ideas for an exciting packed lunch by about the second week into term – then you have come to the right place.  No, I'm not about to persuade you to force some outlandish sandwich combinations on your child, (that's for another post…) but I have found some fabulous lunchbox kit that might just entice your little darling to eat the nutritious goodness you so lovingly prepare…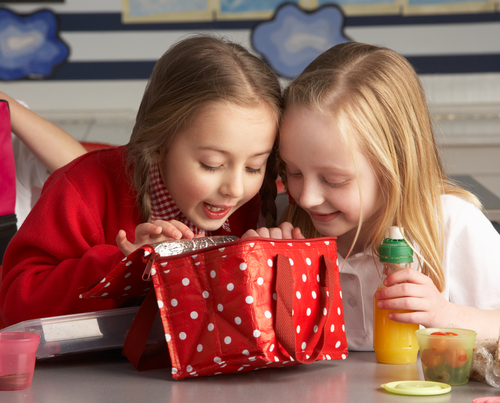 Fruity Faces are a really clever invention.  They're practical, of course, since their inflate-to-fit walls protect fruit (or even a yoghurt pot) from squashing and bruising.  But they come in such delicious colours – some with funny faces on and even one that's shaped like a banana – that your child would be hard pushed to refuse one of their five-a-day.  The clip on carabiner is a funky touch – my daughter loves clipping hers to her school bag for a healthy mid-morning snack.  £3.99 from www.fruityfaces.com .

To keep cheeses, yoghurts and juices cool until lunchtime (there's really nothing worse than lukewarm yoghurt, eugh!), a re-useable ice pack is a really handy inclusion to any self-respecting lunchbox.  I like kid-friendly ones by Polar Gear, £2.49 for a box of three from www.thecharacterplace.co.uk.  Freeze the packs overnight, then nestle around the foods you want chilled in the morning.  Might be an idea to let your child know what it is though, just in case they think they're some new kind of edible treat…
Something else I've recently discovered that I completely LOVE are Food Kozies, £7 for a set of two or £16 for five, from http://www.myfriendlylunchbox.co.uk.  An environmentally-friendly alternative to wrapping sandwiches in clingfilm or plastic bags – and far more attractive!  Just fold wrapper around your sarnie and secure with velcro.  Good for fridge storage too and most importantly, they're easy to wipe-clean.
Or try a retro-styled Wrap-N-Mat that does much the same job but can also be folded out to double-up as an impromptu place mat.
For drinks, a neat trick is to freeze a carton of juice and let it thaw in your child's lunchbox,  where it will also help keep everything else cool.  Alternatively, I think it's hard to beat cute bottle holders by Stephen Joseph, £4.58 from www.beckyandlolo.co.uk.
In the summer, a clever EZ-Freeze Flip Top bottle with its internal freezer stick, is an essential choice as it will keep drinks cool for up to four hours.  £5 from John Lewis.
Or for older children, smart aluminum water bottles, with matching neoprene insulated holder would be cool in every sense of the word. £10.49 from Becky & Lolo as before.