In support of the wonderful work being done by the Ickle Pickles Children's Charity, we are asking all our fans to take part in a Panda Picnic! All users who take part on social media will be in with the chance of winning a Giant Panda Toy and an Oliver Bonas hamper! Find out how you can take part below.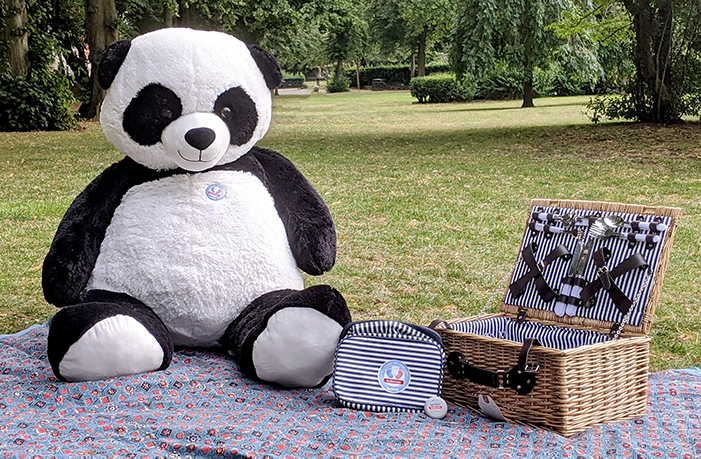 To get you started, and if you are already considering taking part, we have some top tips on how to make your panda-themed picnic as "panderiffic" as possible!
Here are some panda-inspired picnic ideas for you.
Panda faces
Have a go at turning your little ones (and yourself) into pandas for the day with some face paints. Whether you're a dab hand at art or you just give yourself some cool panda eyes – what better way to start off your picnic? There are lots of online tutorials for face painting, including this simple panda idea you can find here.
Panda decorations
Decorate your garden with lots of panda-themed decorations – from bunting and balloons to plates and cups, you can create your own panda paradise! Whether you choose to buy decorations or make your own, there are lots of ways you can bring your garden to life for your picnic. There are some great ideas here.
Panda food
Create a feast of panda-themed food for your picnic. Eat bamboo like pandas do by serving cucumber, celery or green melon as bamboo sticks; make panda sandwiches by using a bear shaped cookie cutter and adding raisins or black olives for eyes; and create a black and white centrepiece with a giant stack of Oreos.
Panda games
From balloons to 'panda poop' there are lots of games you can incorporate into your panda-themed picnic. Try the 'panda poop' game, by putting Maltesers on a plate and sucking them up with straws to transfer as many as you can into an empty cup, or play keep the balloon up (with a panda balloon of course, which is easy to make with a black permanent marker and a white balloon).
How can I take part?
Invite another family or friends to a special panda picnic (suggested donation £5 to Ickle Pickles per family via their donation page). Then, grab your panda and your picnic basket and get yourselves to the nearest green space for some relaxation – it might be your garden, it might be a local park! Picnics can have a black and white theme for bonus points, but they must include a panda.
Share your panda picnic on social media and tag @sudocrem #soothingthesmallest #icklepandapicnic to be in with the chance of winning a bespoke picnic hamper from Oliver Bonas and a giant panda! Terms and conditions apply.