There are the days when all you want is a cheesy pizza, gooey on top, crispy crust all around…but you still feel compelled to put something good on the table. Enter the ultimate homemade margherita pizza!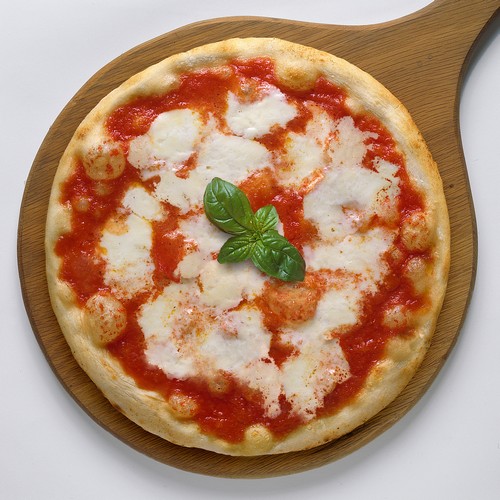 Ingredients
The Dough
225g strong white flour (plus extra for dusting)
¼ tsp salt
½ tsp easy-blend yeast
150ml warm water
1 tbsp light olive oil
The Topping
tomato paste or tomato passata
100g soft mozzarella cheese
2 medium tomatoes, thinly sliced
2 tbsp Parmesan (or mature cheddar cheese), grated
Instructions
The Dough
Sift together flour and salt into large bowl, then stir in yeast
Making a well in the centre of the flour mixture, pour in half the water and then spoon in the oil
Combine using a fork, and pour in small amounts of water until you've made a soft dough
Place the dough on to a floured, dry, clean kitchen surface and knead for around 10 minutes. Stop when the dough becomes smooth and elastic
Pop dough ball into an oiled bowl, cover with clingfilm, then leave for about an hour to double in size
Preheat oven to 220'C, Gas mark 7
Remove dough from bowl, roll out to approximately 30cm in diameter
Spread the tomato paste or passata sauce over base, leaving an edge of 2cm
The Topping
Slice mozzarella and arrange on dough base, layering with tomato slices and parmesan (to your preference)
Cook in a preheated oven for 20 minutes, or once top is bubbling, and edges are golden
TIP: serve with a crunchy side salad, or pump up the veggies by adding thinly sliced courgette, aubergine or peppers to the topping. Even better—have your kiddies choose their own healthy toppings; a genius, tried-and-tested strategy to get them eating the good stuff!
Adapted from netmums.