Who can resist a go at ring-toss? (Especially if the weather is grim and fun eludes). Check out this simple DIY version of the traditional game for you and your children to enjoy.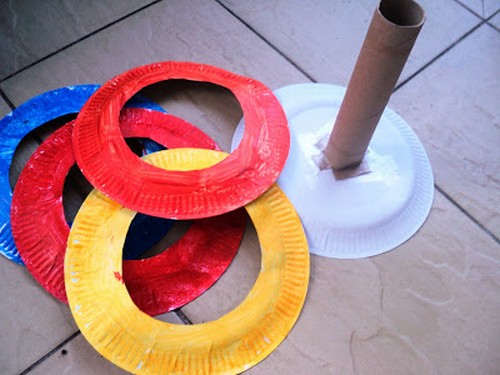 Ring-toss is a great way to build your little one's hand-eye coordination, spatial perception, and gross motor skills. If your kiddos are a bit older, glue a few plates together to thicken the rings so you can throw from a further distance.
You'll Need:
paper plates
paint
scissors
long cardboard tube (from cling wrap, paper towel etc…)
sticky tape
Instructions: 
Cut out a circle from the middle of a few paper plates to construct the rings. Have your toddler paint each ring a different colour and set aside to dry.
For the ring stand, cut slits in the bottom of your chosen cardboard tube, make the ends flat, and use sticky tape to attach securely to the underside of a paper plate.
And…PLAY!
For more frugal and fun ways to while away wet afternoons, check out some baby and toddler sensory activity ideas here and here.