Stress and tension come hand-in-hand with parenting – for both grown-ups and children! It's unrealistic to expect to go through parenthood without stress, but there are ways you can make life a little more peaceful, especially through the summer months when heat can exasperate tensions even further.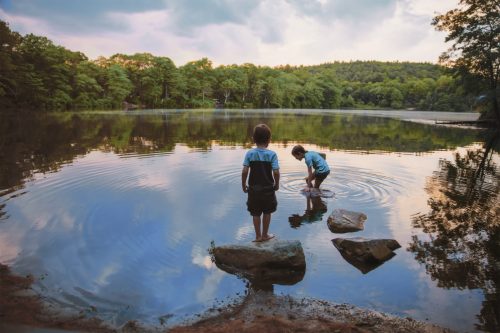 Downtime
Introducing 'downtime' can benefit the whole family. As much as it may pain you to pop the telly on or see your kids just lazing about, it's a great way for everyone to chill and rejuvenate. Perhaps lay on a favourite blanket together and read a book, listen to some gentle music together or investigate some relaxing crafts – quiet time, however you choose to spend it, can be not only fun but also a blessing!
Colouring
Kids love to do colouring and adults can get in on the action too. There are an abundance of colouring books available to buy, and colouring pages online that you can download and print out. Chill out together for an hour or so doing this – colouring can be very relaxing and therapeutic at any time during a hectic day.
Walking
Walking can be a great way to relax and take in the wonder of nature all around us. Whether you have a small one in a pram or a toddler skipping alongside you, a walk can be a lovely calming experience and a perfect excuse to get out of the house. Even in the rain a walk can be soothing – and a nice bath when you get back can further enhance the calming mood.
Listening to nature
Depending on where you live, listening to nature can be a fabulously fun and relaxing activity for children and parents alike. Sit in the garden of an evening or lay on your bed with a window open and listen to the different sounds. Night time is ideal as things are generally quieter. On a clear night, pop a blanket on the floor in the garden and look up at the stars, or during the day see what shapes you can make out of the clouds.
Reading
Reading is a wonderful way to relax at any time of the day. Find a quiet place in the house where you can read as a family – you could even make a cosy reading corner for the duration of the holidays. Take turns in choosing books and reading them – even if you have very young children that don't understand the story, they will soon chill out listening to the soothing tones of their parent's voice.