Inch Blue is one of the UK's leading brands and its collections can be found in prestigious retailers ranging from Harrods to Selfridges and its collections are sold worldwide.
Inch Blue has been a popular choice for new parents and people looking for imaginative and eye-catching gift ideas ever since it launched in 1999, and the brand's continued success is attributed to its commitment to quality and innovation.
The shoes are all hand-stitched in Inch Blue's own factory in Wales and are made using Chrome 6-free leather, which is very safe for babies and toddlers.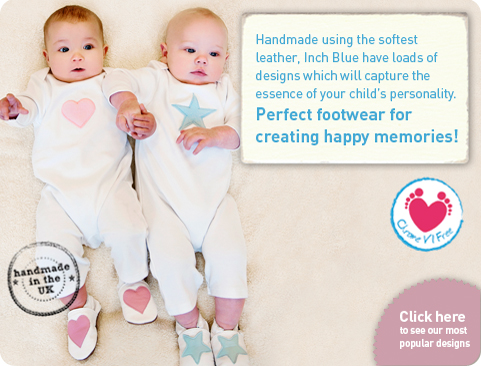 The brand's co-founder, Rhiannon Owen, is constantly developing Inch Blue's core product range and designs dozens of new styles and colourways each season, in addition to complementary products.
These include Inch Blue's award-winning natural sheepskin baby booties, called 'Cwtches', luxurious printed gift sets featuring Inch Blue's exclusive prints on babygros, hats and shoes as well as embroidered gift sets in many of the brand's most popular designs – all of which are presented in Inch Blue's signature luxurious packaging.
New designs for 2014 include the Fox, Tractor, Rafferty the Rabbit, Bluebell, Monty the Dog, Dash the Dachshund, Flower Pot and a new Doll shoe.
Inch Blue shoes are available from 0 – 6 years and gift sets and Cwtches are available from 0 – 12 months. For more information please visit www.inch-blue.com