Recently journalist Annie Ridout criticised hospital policies not allowing partners to spend the night after birth in the hospital with mum and baby. Her tweet, expectedly, has divided opinion.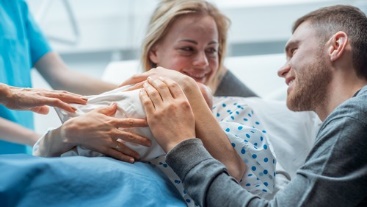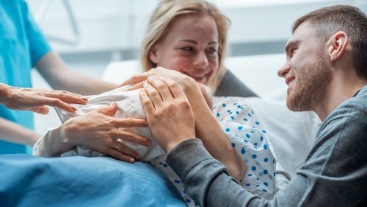 "My local hospital doesn't allow partners to stay on the postnatal ward after their baby has been born," tweeted Ridout. She continued, "I think this is outrageous—unfair on the mother; unfair on the father, who's being made to feel unimportant. He needs to bond too. Do other UK hospitals have this rule?"
Statistically, Ridout's experience is fairly common, with just 17% of new fathers being accommodated overnight in hospital wards.
Ridout's argument centres on the fact that birth is an exhausting, if not traumatic, event, and having the support of your partner in the aftermath is invaluable. Having a familiar face close by to help you attend to your baby, especially if you are post c-section, is preferable to waiting for a nurse's assistance. And of course, dads deserve to be part of that early bonding process, too.
But there's another, equally valid side:
"Might not sound ideal to you, but you have to consider that a) not everyone has a loving partner and b) it's a vulnerable time for women giving birth who may have experienced trauma. Partners also not requiring medical care. Please consider the wider issues outside of 'I want,'" responds one woman to Ridout's tweet.
The objective reality is that obstetrical wards are often pushed for space. There have been reported cases where some labouring women themselves have been denied access to hospital facilities.
In short, the issue goes beyond just keeping a bed open; vast infrastructural improvement and funding will be what makes the change, so that both women who want their partner close post-birth, and those who desire protection of privacy, can be equally accommodated.
If you're due to give birth, a valuable bit of advice is to contact your local hospitals and birthing centres to become familiar with their overnight policies.
Via motherly.