Get a quick and easy dose of vitamins and energise yourself with these delicious smoothie recipes – quick to make and ideal for busy parents.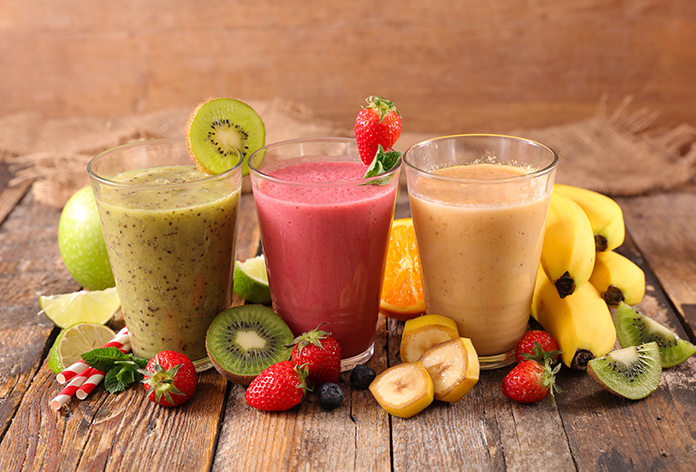 Morning sunshine smoothie
A great way to start the day with this sweet and tangy citrus recipe, packed with vitamin C.
2-3 freshly peeled and juiced tangerines
1 red grapefruit (juiced)
A handful of frozen or fresh strawberries
Everything smoothie
As the name suggests, this smoothie is packed with fruits, veggies and leafy greens for carbs, protein and calcium.
10 ml soya milk
1 medium orange, peeled and halved
A handful of grapes
1 peach, halved and seeded
1 small carrot
A couple of broccoli florets
A handful of frozen or fresh strawberries
Half a small, peeled banana
Ice cubes
 Antioxidant sweet cherry smoothie
Cherries can help to reduce muscle aches and promote healthy sleep and this smoothie is perfect for a sweet tooth too.
A handful of frozen, pitted cherries
Half a cup of fresh orange juice
A handful of ground almonds
2 tbsp flaxseed meal
½ tsp pure almond extract
Breakfast energy smoothie
This is the perfect way to fuel your day and very simple to make and enjoy on the go.
1 cup of yoghurt (any flavour)
½ tsp of vanilla extract
2 good handfuls of frozen or fresh mixed berries
Half a banana
Green grape smoothie
Try this delicious recipe for the perfect blend of healthy greens with sweet fruits.
1 cup washed spinach leaves
1 cup roughly chopped kale
1 cup green seedless grapes
1 cored and chopped pear
1 peeled and quartered orange
1 banana
1 tsp chia seeds
½ cup water
Lots of ice