There's nothing more beautiful than the feeling and smell of your baby's delicate skin. And looking after that skin is important – from nappy rash prevention to soothing a grazed knee, from calming irritation to easing eczema, keeping skin soothed is important for health and happiness.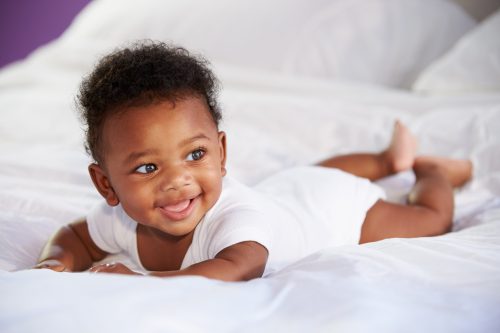 Skin conditions, redness, soreness and nappy rash can be even more of a nuisance in the heat of the summer. Itching can be unbearable, pain can be horrible… and little ones don't know any other way to tell you they're uncomfortable than crying!
Here are some ways you can keep irritation at bay and keep skin soothed and soft – for baby, mum and dad.
Don't scratch!
Ha! That's far easier said than done – even as adults we can't help ourselves, so how are you meant to get your child not to? Thankfully, very young babies can't scratch, but they can cry. Scratching is one of the main causes of skin redness and irritation, and damages the skin far more than the condition itself.
Apply a soothing lotion as part of your daily routine
Routine is important, so your child knows it happens every day and expects it to. Apply cream to yourself too (even if you don't have a skin problem, apply a moisturiser), this way it just seems like a normal thing to do. And make it fun… make pictures in the cream on their skin, turn yourself into a ghost!
Think about the triggers of itching.
There are things than can make skin conditions worse – hot baths, certain soaps, temperature changes, clothing, overheating and sweating are all irritants known to make dry skin and itching worse. Trial and error will help you learn the triggers, and then you can try to avoid them.
Saying 'don't scratch' is like saying 'don't eat that piece of cake'. As soon as you say don't, it'll be all your child – or you – can think about. Keeping nails short can help, as can some of these techniques to take the mind off the itching.
Moisturise the itchy skin and turn it into a soothing action
Clench fists and count to ten
Cool the skin with something cold
Keep cream in the fridge so it's cool and soothing when you apply it
Give little ones a fidget toy to play with when they feel the urge to scratch
For soothing on the go, make sure to carry around a tub of My Little Sudocrem! It's a versatile skincare cream that helps to soothe dry skin & calm redness, and the 22g pot is easy to carry around wherever you go.