What mum doesn't need a pronto-plate of grub to hand for her hungry horde? Check out this supremely easy and speedy-speedy supper idea to sate both bellies big and small.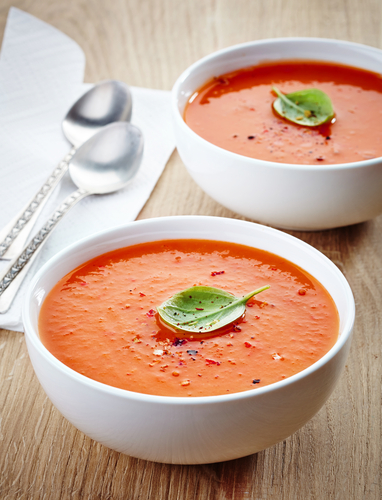 When it comes to parenting, dishing up healthful meals whilst in the maelstrom of the myriad other responsibilities is no mean feat; but this here ten minute tomato soup is the occam's razor of recipes – it's the simplest sup-solution makes the most sense. (It's also totally tasty, too — and brimming with good stuff, including immune-boosting vitamin C and cancer-fighting antioxidant lycopene.)
Serve hot with crusty bread, or chilled for those more muggy evenings.
INGREDIENTS
½ cup (125 ml) olive oil
3 garlic cloves, crushed
1.4 L tomato puree (tomato passata)
750 ml vegetable stock
2 tablespoons balsamic vinegar
1 tablespoon brown sugar
2 small loaves of Turkish bread (or whatever your preference), cut into 1cm thick slices
fresh basil leaves
METHOD
Place a large stock pot over low-medium heat, then spoon in 2 tbs olive oil and the garlic and stir for 1-2 minutes. Next, pour in the tomato puree and vegetable stock and stir again. Add balsamic vinegar and sugar and swirl to combine. Bring soup to the boil, reduce heat and simmer until just thickened (around 8 minutes).
Then, place a large skillet over medium heat. Drizzle oil into pan and add bread slices. Fry until the bread is golden and crisp. Flip and repeat.
Top with basil.