Kids certainly keep us on our toes, none more so when they come out with some creepy things that send shivers down our spines! Here's a selection of spooky things kids have said and done that parents have shared online.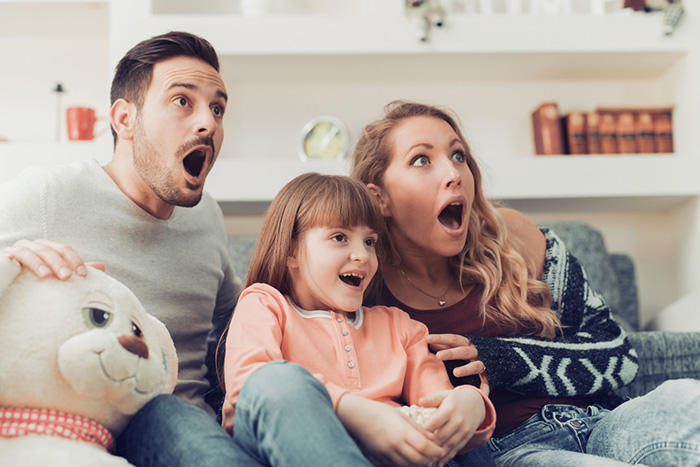 "When my son was small, I was talking to him about growing potatoes. I described how you bank up the earth around them as they grow, and he said: 'I used to do that when I was an old man'."
"My mother was babysitting my daughter, when she said: 'Oh no, Grandma. Mama's not coming any more today. She was in a bad, bad accident. She can't come get us'. I had indeed been in an accident that almost killed me at that exact time. None of my family had yet been
notified."
"My 3-year-old son was softly singing while he was colouring. I stopped to listen, but I had never heard the song before. I asked where he learned it, and he said: 'The lady in my bedroom sang it to me'."
"The other week, I was reading my 2-year-old daughter a bedtime story. When we finished, we were talking about being scared of ghosts, monsters, trolls, etc. and she turned to me and said, 'Daddy, I'm not scared of ghosts.' I asked, 'Why's that?' to which she replied, 'Because the
one that comes into my room at night and strokes my hair is a nice one'."
"When I was really little I pointed to a tree outside my house and said to my family: 'That tree is going to die'. No one thought anything of it, but the next morning it randomly fell over and crushed my grandpa's car."
"I work at a summer camp and one day I was playing with this kid who was jumping off of things and onto me. I said: 'Hey, be careful. If you kill me I can't play with you anymore'. He looked me dead in the eyes and said: 'No, but I can play with you'."
"My child would talk to the bathroom wall to her imaginary friend. When I asked who she was talking to, she said the boy from the coalmine. We had a mineshaft running next to our house. Nope. Just nope."
"My friend's 7-year-old pretended to put me in jail. When I asked what I did, she replied: 'You murdered a 23-year-old woman while she was jogging in the early morning'."
"I woke up to find my 3-year-old son lying in bed next to me. I asked how he got in my bed, and he said he came to protect me from 'the light eyes' that were standing over me while I was sleeping."
Got goosebumps? Yep, me too!