Following on from the success of our Baby Shower app available on the Sudocrem Facebook page, We recently launched a world first for Facebook – a virtual treasure hunt, with some amazing prizes up for grabs.
In fact, at launch there were 8000 prizes available in four virtual environments – The Forest, The Beach, The Park & The Lake. The competition offered great odds of winning, with a 1 in 5 chance.
The prizes include 10 x iPad Minis, 2 x annual Family Merlin Passes, 5 x Chessington Family Day Passes, thousands of 2 for 1 Chessington World Of Adventures coupons, thousands of exclusive Sudocrem money off vouchers, Swaddle UP suits from Cheekyrascals.co.uk, Bunny Puppets from Mabyland.com and so much more.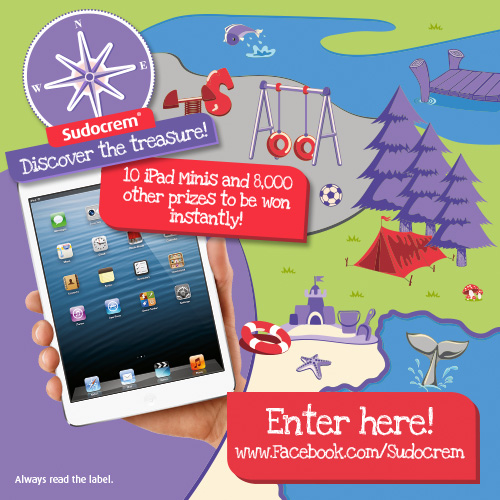 We are the brand for life's little dramas and we think we have delivered an exciting and innovative competition.
Another great addition to the competition is the chance to gain extra treasure hunt 'digs'; Entrants can gain up to an extra 6 'digs' when they share the competition and invite their Facebook friends to play.
If you want to get involved with our new Facebook competition, click HERE. You need to hurry though, the treasure is being found fast. At time of posting this, there are just FOUR iPad mini's left to be found!
Terms and conditions apply.